After our Class Championship win we endured an engine tear down. For those not familiar with an NHRA tear down, Jerry MacNeish and pit crew, Kerry Stanley and Don Myers had to disassemble the 302 engine and go through an intense engine tolerance check.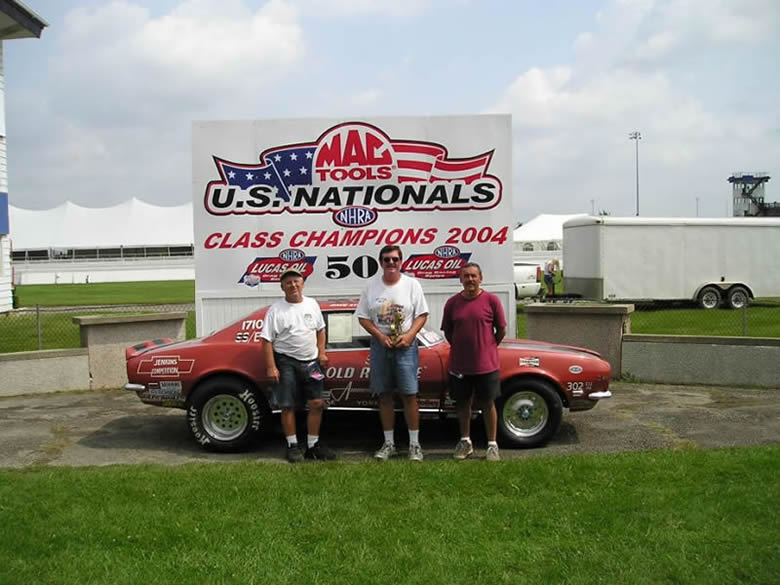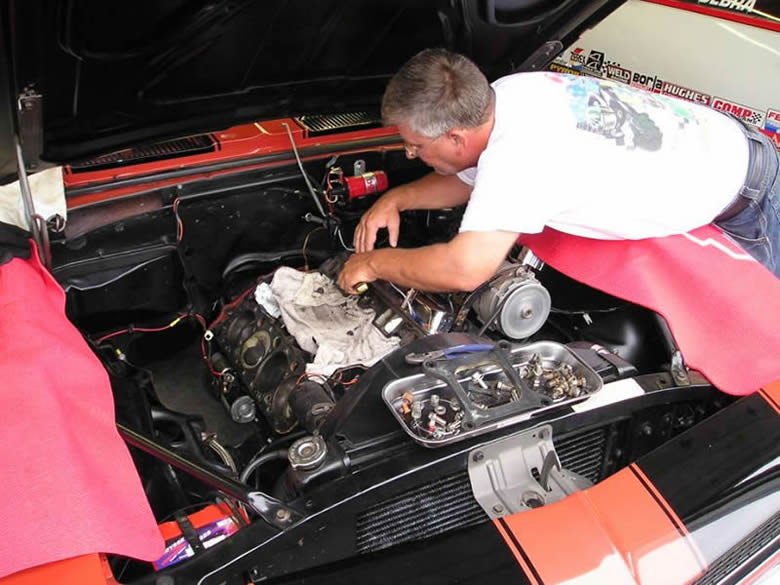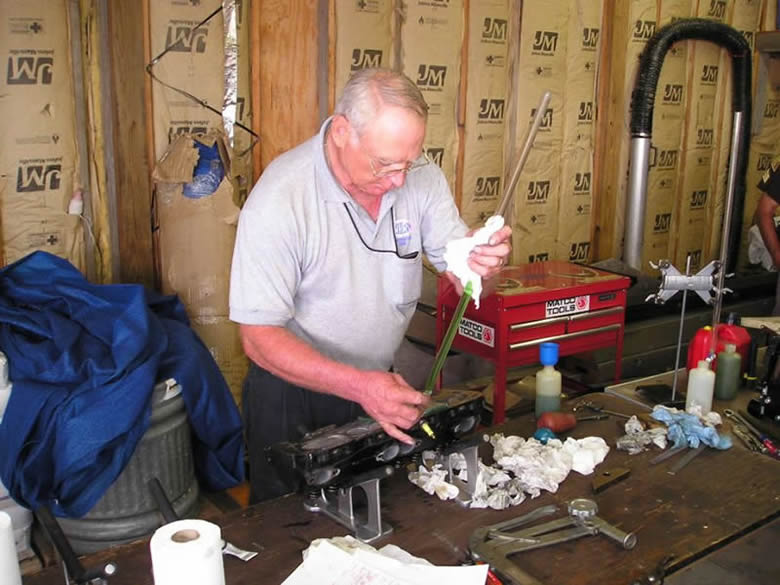 One cylinder head was removed, the combustion chambers were CC'd and checked; 61.2 is the minimum tolerance allowed, we were 61.7.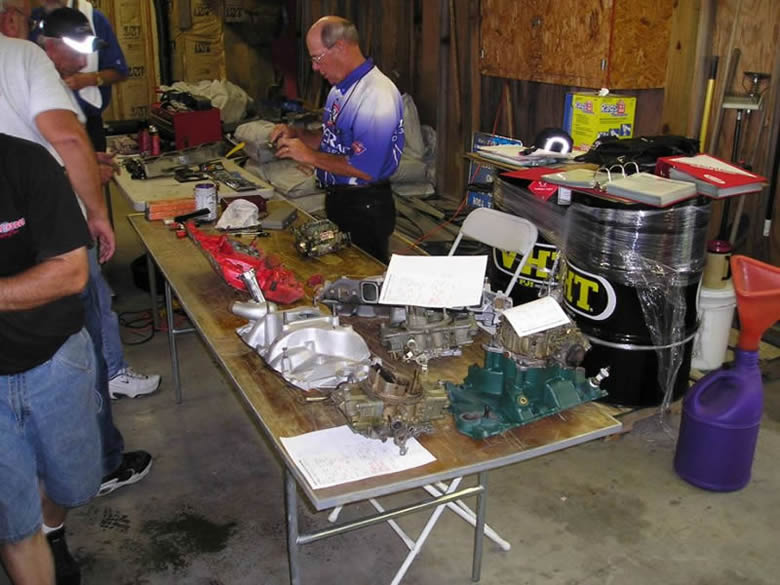 The original dated 4053 Holley carburetor and 610 intake manifold were inspected for grinding and porting work.
Camshaft lift was checked and measured .482" intake, .477" exhaust. The bore, stroke, head gasket, block deck and piston dome were checked
and measured to NHRA Stock specs. Two valves were removed and checked for acid porting. The intake and exhaust runners
were CC'd, inspected and passed tech.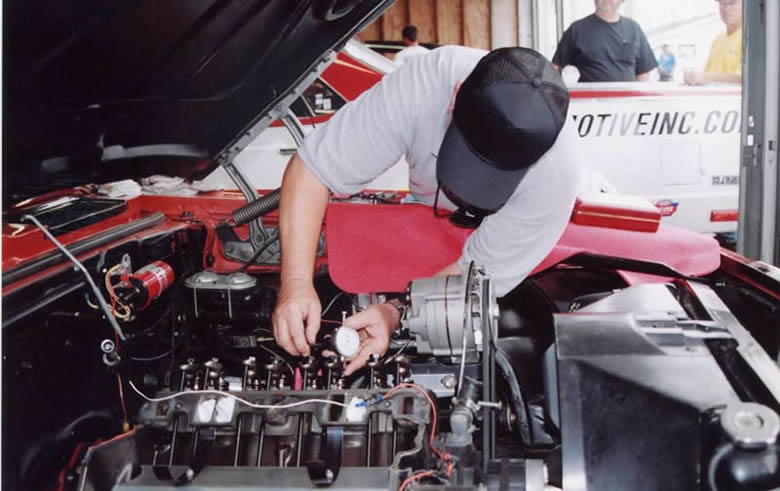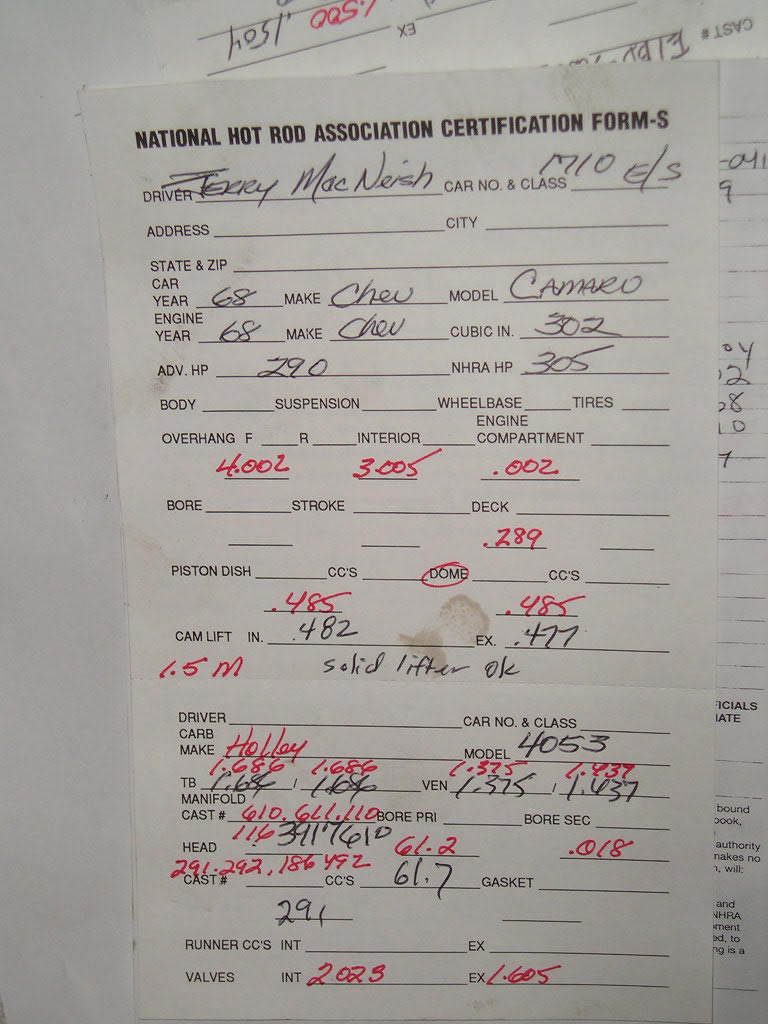 Our Z/28 was found to be legal and passed one of the most intense engine teardowns in motorsports........NHRA's Stock Eliminator. Here is a copy of our NHRA tech card showing all of the specifications that were checked and approved. A special thanks go out to all our customers and Camaro friends who have supported us over the years. This was a big win for us and we're proud to be a part of the Z/28 community.
For you Z/28 Camaro lovers, this was one of the highlights at the Indianapolis 50th Annual NHRA US Nationals, a side by side 10 second pass by racing legend, Ben Wenzel with his 1967 Z/28 and Jerry MacNeish driving the Dave Strickler Old Reliable Z/28. These two original Z/28's are the only NHRA Stockers nationwide that run in the "ten second zone". Both cars are shifted at 8200 rpm with STOCK engine parts...........no roller rocker arms or trick parts here!
I must also mention that we were proud to be pitted with NHRA Stock racing legend's Dave and Ben Wenzel. Without their help and support over the years, we would not have reached our goals with the Old Reliable Z/28. This Indy trip was a dream come true for all of us at Camaro Hi-Performance.
Thanks again to the Wenzel Brothers!
Our Stock Eliminator Victory June 2002
During the weekend of June 8th and 9th, 2002, Camaro Hi-Performance's Jerry MacNeish won the second NHRA Division 1 points race in Delmar, DE......and we did it with the same Z/28 Camaro that Dave Strickler drove to the world championship title in 1968. We endured seven rounds of competition for the Stock Eliminator title, and in the final round, had a .514 reaction time to win the event. Other achievements over the weekend almost included the first 10 second run by a stock 1968 Z/28. We got as close as you can get, 11.00 at 121 mph. We will continue the hunt to be the first '68 Z/28 Stocker in the tens this fall. A special thanks go out to all our customers and Camaro friends who have supported us over the years.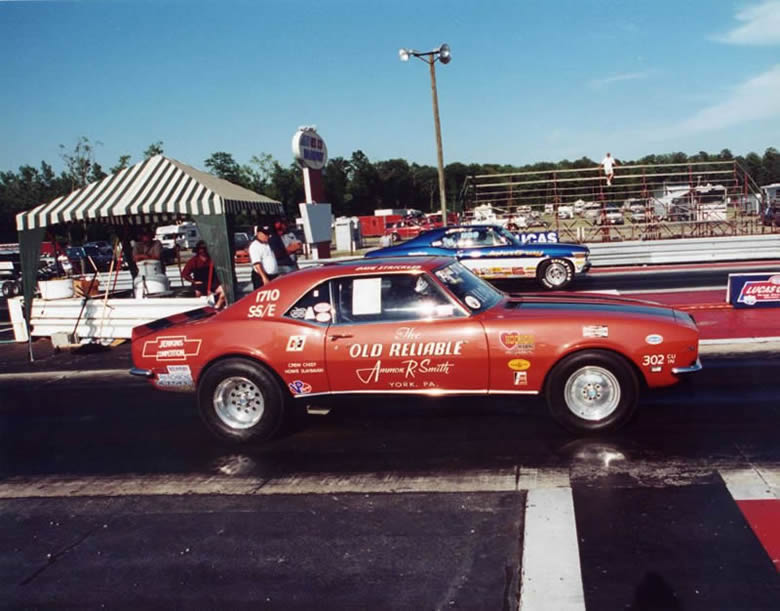 Pictured above is the final round, both cars are staged and ready to go.