NORMAN PETTY STUDIOS, CLOVIS, NEW MEXICO
This part of my website is a tribute to Norman Petty, one of the finest recording pioneers of the 1950's and '60's.  I will be sharing my precious memories, published articles written by yours truly, expertise and experiences with Norman and Vi Petty.  In 1986, I had the privilege of working for the late Vi Petty in Clovis, New Mexico.  My job was to catalog master tapes, work as a historian in the original studio and finishing my Fireball's tribute album with Vi Petty's accompaniment on piano.
Petty's influence on me along with Buddy Holly, Jimmy Gilmer, The Fireballs, Jimmy Bowen, Roy Orbison and many other artists who recorded at Norman's studio changed my life forever.  You will see for the first time the many articles, interviews and photos……..all in one place.
I have interviewed dozens of musicians who recorded at Norman's Clovis studio.  Many of them have passed on now and much of my research spans a time line over the past 50 years.
I will also share my 20 year career with Ace Records working with Trevor Churchill to compile the most complete and up-to-date Jimmy Gilmer & The Fireballs catalog releases on CD.  This also included my detailed sleeve notes for every release.  The first Ace project release for me was the rare "Blue Fire" album that was shelved for over 30 years before it was discovered in 1986 by John Ingman and myself.
Coming soon………the definitive story on Jimmy Gilmer & The Fireballs.  This story was written by me and published in Goldmine Magazine in 1988.
Below:  My last visit with Norman at the Citadel before he took ill.  August 1983.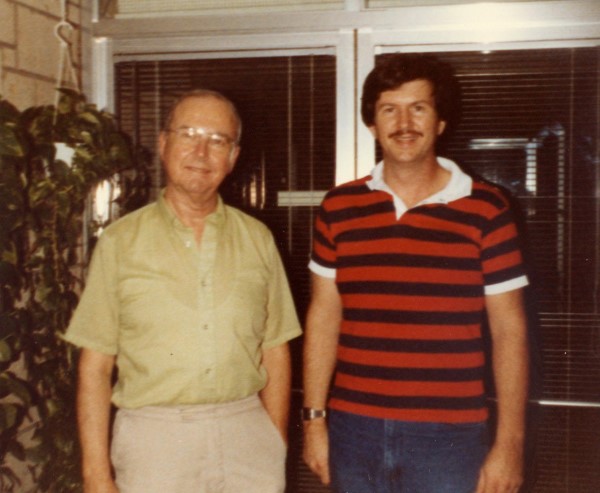 Below:  The late Mrs. Chester Oliver with John Ingman, early 1980's.  John and myself interviewed Mrs. Oliver in Seminole, TX.  Mrs. Oliver's husband, Chester produced the first Roy Orbison recording session.  Songs include "Ooby Dooby" and "Trying To Get To You" released on the Je-Wel label in late 1955.  This is one of the rarest and most collectable disc to come of the Norman Petty Studio.
Below:  The famed and legendary Nor-Va-Jak label created by Norman Petty.
The ultra-rare first pressing of Mood Indigo, recorded in Clovis on July 14, 1954.  Only 500 copies were pressed on 45 and 78 rpm records.  This version is very hard to find.  Due to the time restrictions for air play and the fact that the Trio thought this version "dragged" and was too slow, running 3 minutes, 22 seconds, an alternate version was recorded at the Hays Hotel in Jackson, Michigan while the trio was on the road.  The newer version is listed as a re-issue on the Nor-Va-Jak label with a shorter time of 2 minutes 45 seconds.  Norman pressed a larger quantity on the faster NVJ version and this eventually led to a recording contract with RCA Victor selling tens of thousands of copies on RCA's X label and charting to #22 on the Billboard top 40 charts in September of 1954.
Read my article on all of the Norman Petty labels which was published in Goldmine Magazine, July 1986.  With the help of Norman Petty himself and years of research, I was able to publish the definitive story on Norman Petty and all of his record labels.  This will be posted on my site shortly.
Below:  The more common re-issue of Mood Indigo running 2:45 seconds long.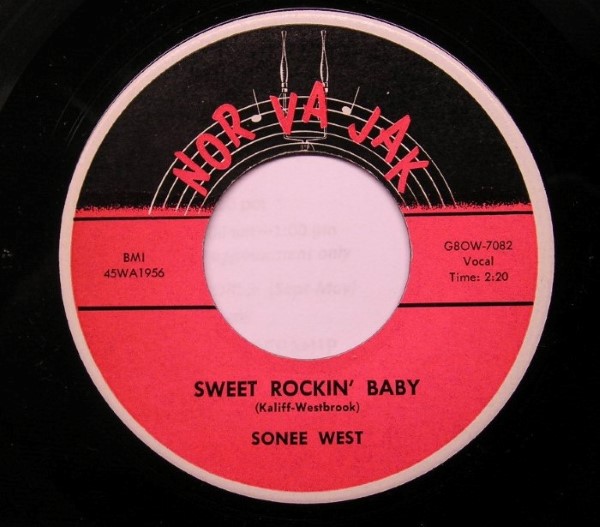 Above: One of the most collectable Norman Petty productions to ever come out of Clovis, NM.