CAMARO-CHEVELLE-NOVA SS VEHICLES
THE "GOLD STANDARD"
Our on-site inspection and vehicle certification reports are setting new world record sales figures at collector car auctions and private sales!
Over the past 30 years, we have worked hard to be your #1 choice for inspecting and authenticating the high performance cars of the 1960's and early 1970s. Camaro Hi-Performance is your only choice to verify the collector car of your dreams.
Here are a few examples of cars that were MacNeish certified:

January 2018, 1969 Cortez Silver Z28 Camaro: $198,000.00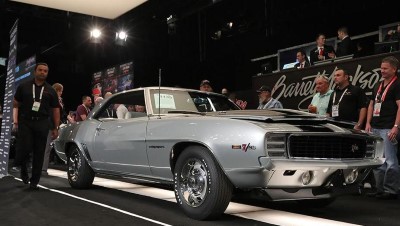 January 2017, 1969 Hugger Orange Z28 Camaro: $137,500.00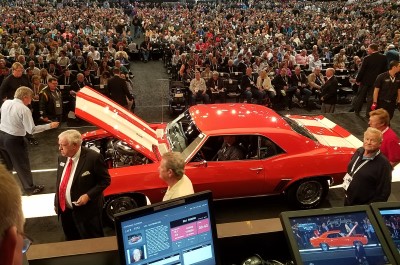 January 2015, 1967 Marina Blue Z28 Camaro: $198,000.00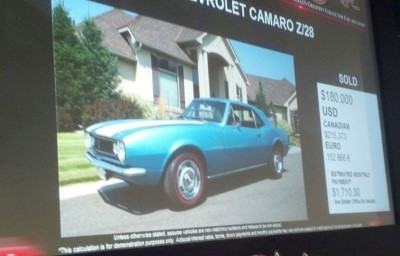 January 2017, 1970 Cranberry Red LS6 SS454 Chevelle: $264,000.00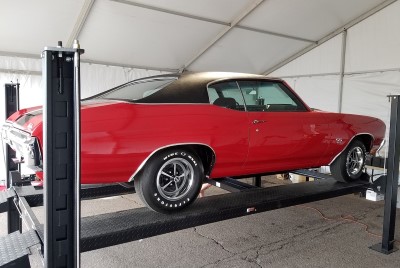 January 2017, 1970 Shadow Gray LS5 SS454 Convertible Chevelle: $187,000.00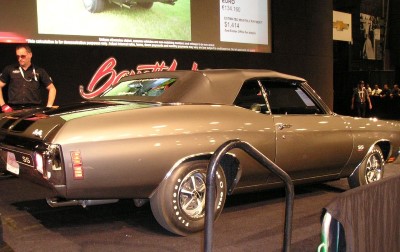 Private Sale, May 2017, 1969 Tuxedo Black Z28 Camaro: $175,000.00
Here's a sample of what you receive from us once your car is "Certified." This is the "MacNeish Certification." Don't settle for anything less!
(*special note, certificate of authenticity certs were issued with all cars starting in 2006)What do we verify? Here's just a small list of what we do during our on-site inspection:

* Verify that the vin number, hidden vins and trim tag to the car are real and authentic
* Verify that the engine, transmission & rear axle are "number's matching" original to the car, this is accomplished with our forensics experience & data analysis using our 30,000 photograph data base
* Verify all body piercings are correct for the car application
* Verify & inspect multiple components to make sure they are genuine Chevrolet & not reproductions
* Verify all paperwork that accompanies the vehicle to insure it's authenticity
* We supply each and every customer an estimated value of the vehicle as part of the authentication process (MacNeish is a certified licensed appraiser)
* Vehicle inspections require two to three hours to do a full analysis of the car
* PLEASE BE AWARE THAT EVERY "CERTIFICATE OF AUTHENTICITY" WE ISSUE COMES WITH A THREE TO FOUR PAGE "MAC NEISH" REPORT DETAILING EVERY ASPECT OF THE CAR. ALWAYS ASK A SELLER DISPLAYING OUR CERTIFICATE IF HE HAS THE OFFICIAL REPORT ON THE VEHICLE. IF NOT, YOU CAN REQUEST A COPY FROM US.
The MacNeish Report: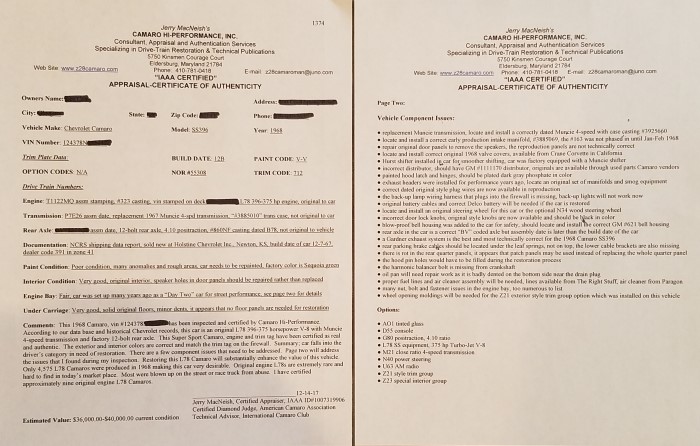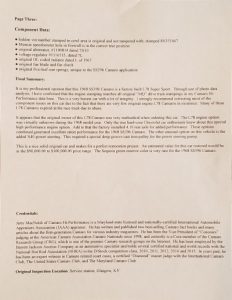 MEET OUR CREDENTIALS:
* Certified Master Mechanic Apprenticeship, Volkswagen of America, 1969-1971
* Volkswagen Line Mechanic, Baltimore, Maryland 1970-74
* Purchased new 1969 SS396 Chevelle, began performance tuning for race competition when new
* Began NHRA professional sportsman career in 1970, still in NHRA competition today, 50+ years later
* 1971-1977: received multiple race track awards, class wins and eliminator wins with SS396 Chevelle, performance wise at that time were ET's of 12.20's at 111 mph, open headers and 7″ slicks
* Early 1970's: began building & blueprinting race engines, transmissions and rear axles
* March 14, 1972, purchased first Z28 Camaro for street use and performance tuning
* 1974-77, employed at Miller Chevrolet, Ellicott City, Maryland, Assistant Parts Manager
* 1977, built ground-up 1966 Chevelle SS396 race car for championship drag racing, multiple eliminators
* 1978, 1980 & 1982: received multiple awards from 75-80 Dragway, Monrovia, Maryland, "Most Outstanding Driver" & "Best Engineered" race car
* 1977-82, became involved in the Camaro restoration arena doing research & writing tech articles
* 1985-1986: began restoration on 1968 Rally Sport Z28 Camaro which was sold new at Gladding Chevrolet in March of 1968
* 1986-1992, multiple 1st place restoration awards, Super Chevy, Vintage Chevrolet Club Of America (VCCA), World Of Wheels & The Camaro Nationals events, this was with our red 1968 Z28 Camaro
* 1987, founding member, Maryland Camaro Club, joined the United States Camaro Club (also past President and Vice President of the Maryland Camaro Club)
* 1987-88, became freelance technical writer for various Camaro magazines & news letters, Camaro Corral, In The Fast Lane and the Maryland Camaro Club, began gathering data for the 1967 and 1968 Z28 Camaro to write & publish a technical fact book on these cars to aid enthusiasts in the hobby for restoration
* 1988: Created the 1967 Z28 Camaro National Registry, as of January 2018, there are 227 cars in our data base of 1967 Z28 Camaros
* 1988: Joined multiple Camaro judging teams including the nationally known U.S. Camaro Club and the International Camaro Club (ICC)
* 1988: Began performing Camaro seminars at various national events throughout the country to aid the car enthusiasts from all over the country
* 1990, Our 1968 Z28 is featured on the PBS show "Motorweek" with in-depth interview about the car
* May 1990, Camaro book written & published: "The Definitive 1967-1968 Camaro Z28 Fact Book"
* 1992: "Certified Diamond Master Judge" for first generation Camaro, various events & clubs
* 1992: began working as an on-site consultant to evaluate Camaro restorations at various shops throughout the country
* 1990-2010: Restored numerous 1st Gen Camaros including our rare 1967 Z28 Camaro which received "Top Flight" honors in the "Red White & Blue" certification & "Certified Gold" at the Camaro Nationals
* 1993: Wrote, completed & published Camaro fact book #2, "The Definitive 1969 Z28 Camaro SS396 Fact Book" My company, Camaro Hi-Performance was created as a part-time company for the Camaro hobby
* 1993, located & restored the nationally known "Old Reliable" Z28 Camaro driven by the late Dave Strickler, Dave drove this car to the NHRA Super Stock World Championship title in 1968, our goal was to restore this car and put it back in NHRA Stock Eliminator competition, from 1994 until 2007, Camaro Hi-Performance racked up multiple class wins with this car and several eliminator titles
* 1994: Dearborn, Michigan: Received the prestigious "Best Of Show" award at the U.S. Camaro Nationals w/The "Old Reliable Z28"
* 1995 to present: Vice President of "Concours" judging at the ICC and ACA Camaro Nationals
* 1998: Camaro Hi-Performance Inc. became a full-time business, Camaro & parts restoration
* 2006-2008: Restored & completed our current 1967 Z28 Stock Eliminator race car, we have set multiple NHRA national & world records with this car in the D/Stock class, 2010, 2011, 2012, 2014, 2015, we also have multiple NHRA class & eliminator wins and runner-ups
* 2012 to present: Automotive Specialist for Barrett Jackson collector car auctions
* MacNeish has been an expert witness for legal cases involving Camaro authenticity
* Core member of the Camaro Research Group (CRG)
* Our Camaro fact books have sold in the tens of thousands since they were published and continue to be the main source and industry standard for first generation Camaros. Both books are now available in 4th edition printings
* We continue to be the main source for drive-train restoration for all Camaro, Chevelle and Nova SS cars. We have rebuilt and restored hundreds of engines and transmissions for vehicles all over the country including three ZL-1 Camaros

STATE AND NATIONALLY CERTIFIED BY THE INTERNATIONAL AUTOMOBILE APPRAISERS ASSOCIATION, CERTIFIED MASTER JUDGE, LEGENDS CONCOURS CLASS
Expert Camaro, Chevelle and Nova SS Appraisal, Authentication, and Consulting Services:
If you've just purchased a Camaro, Chevelle or Nova SS, we offer the most knowledgeable appraisal services in the country. We will verify the vehicle's authenticity is "number's matching" to insure the value of the car's worth.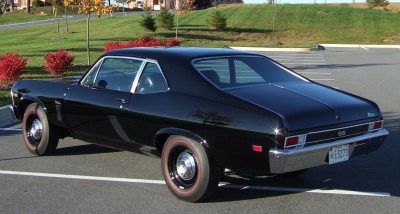 If you're in the market to purchase a classic Chevrolet, we can provide knowledgeable and thorough consulting services. All perspective buyers should be aware before you spend your hard-earned money on a collectable car. With the high cost of "number's matching" collector cars these days, a professional should be called in to examine your potential purchase. Most people would not spend $10,000 on a diamond ring without a professional opinion. The same holds true for collectable cars. Jerry MacNeish has been used as an expert witness in court cases to evaluate the sale of bogus cars. With over 48 years experience in drag racing, restoration, and Camaro research, we can authenticate and provide expert advice to you, the potential buyer.
CAMARO HI-PERFORMANCE can give you technical support with your car restoration project. Over the years, we've aided many hobbyists in restoring their cars to concourse perfection. We offer reasonable and competitive rates for all of our services.