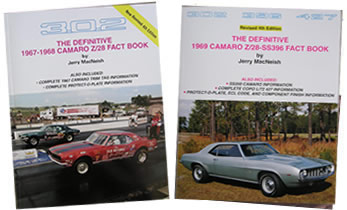 "THE DEFINITIVE 1967-1968 CAMARO Z/28 FACT BOOK"
BRAND NEW 4th EDITION AVAILABLE MAY 2007, A TREMENDOUS
AMOUNT OF NEW INFORMATION, AND THE MOST UP TO DATE
PUBLICATION ON THE 1967 AND 1968 Z28 CAMARO.
&
"THE DEFINITIVE 1969 CAMARO Z/28-SS396 FACT BOOK"
BRAND NEW 4th EDITION, LOTS OF NEW INFORMATION IN THIS POWER
PACKED, BEST SELLER PUBLICATION AND THE MOST THOROUGH
CAMARO BOOK ON THE PLANET. JUST RELEASED FEBRUARY 15, 2008.
ORDER YOURS TODAY!
Both publications were written and published by company owner, Jerry MacNeish. Endorsed by legendary engine builder Bill "Grumpy" Jenkins and exhaust header specialist, Jere Stahl, both publications are considered the "INDUSTRY STANDARD" by the UNITED STATES CAMARO CLUB, THE INTERNATIONAL CAMARO CLUB, and most Camaro organizations throughout the country. If you are a first generation enthusiast, these books are a must for your library!
Review:
Three years went into the writing of The Definitive 1969 Camaro Z/28 Fact Book, by Jerry MacNeish. The Camaro historian and ex-drag racer has compiled "the most thorough and in-depth book on the 1969 Camaro ever assembled." The 240-page book covers topics as:
information on the Muncie four-speed and Turbo-400 automatic transmissions;
decoding a Camaro broadcast sheet;
details of the COPO "BE" rear axle housing;
correct and acceptable component finishes for the 1967-1969 Camaro;
easy-to-read date code charts, engine block stamping charts and correct casting information;
a complete appendix on Holley carburetors for all Chevrolet products;
technical updates and information on the 1967 Z/28 Camaro;
more than 310 detailed photos, plus color photos of beautiful Camaros.
Inquire about special wholesale prices available to Camaro vendors and book vendors. Don't be left without these books in your inventory… order your copies today!!!
.
Ordering Information:
The Definitive 1967-1968 Camaro Z/28 Fact Book – $99.00 (price increase due to limited supplies)
The Definitive 1969 Camaro Z/28-SS396 Fact Book – $99.00 (limited supply)
Send check or money order to:
Jerry MacNeish
5750 Kinsmen Courage Ct.
Eldersburg, MD 21784