Steve's Hugger orange 1969 Z/28 Camaro

Steve's 1969 Garnet red JL8-cross-ram Z28
Gary & Joe at Capital Raceway

Mike's Corvette bronze 1968 Z28

 Gene's Butternut yellow 1968 Z28, Columbus, OH

John's 1969 Garnet red Z28, Highland, MD

Brian's Rally green 1969 Z28 Camaro, Lynbrook, NY

Norm's Olympic gold 1969 Yenko Camaro
 Big Ed's original survivor Lemans blue 1969 Z28, Arnold, MD
Paul's Rally green 1968 Z28, Brantford Ontario, Canada
Joe's 6200 mile L78 survivor, N. Olmstead, OH
Steve Thompson's Tripoli Turquoise 1968 Z28
Glenn & Becky's Daytona yellow 1969 Z28
Ted's Tahoe turquoise 1967 Z28
Mike's Granada gold 1967 Z28, Middletown DE
Stormin' Norman Meads' 1969 427 L72 Biscayne
Sandy's 1969 Z28 Camaro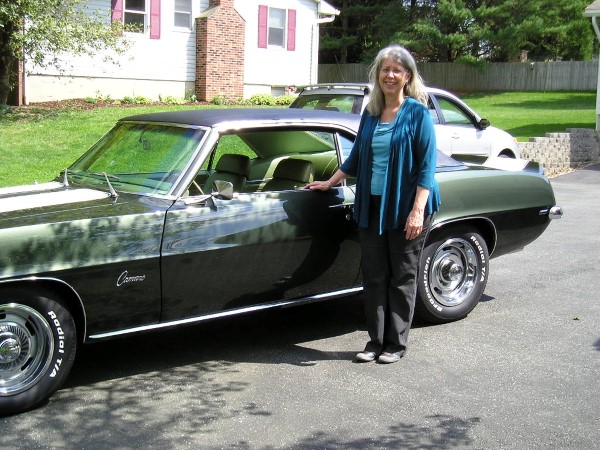 Sandra Woolfenden purchased this 1969 Z28 in February of 1969.  She is clearly one special lady to have kept this car all these years.  And now with a restoration from Lucas Restorations, Jerry's Hot Rods and Camaro Hi-Performance, she has a brand new 1969 Z28 all over again.  Congrats to Sandy!
Below:  Engine bay in Sandy's Z28, still houses the original 302 engine that came in this car!
Rear shot of Sandy's Fathom green Z28 showing off the factory installed D80 spoiler equipment.
Bobby DeArmond's 1969 COPO 427 Camaro, Gallup, New Mexico.
Congratulations to Bobby DeArmond as he just won the 2014 NHRA Stock Eliminator World Finals in Pomona, CA.  Bobby went seven rounds in the eliminator to win the race!  Great job!  Bobby has been a close friend of Camaro Hi-Performance now for many years.  His A/Stock Automatic Camaro is equipped with a 427-425 hp engine prepared by Gary McGlasson Racing Engines and capable of running in the high nine second zone.
Donnie Beeler's 1967 327 4-speed Camaro, Elizabethtown, Kentucky.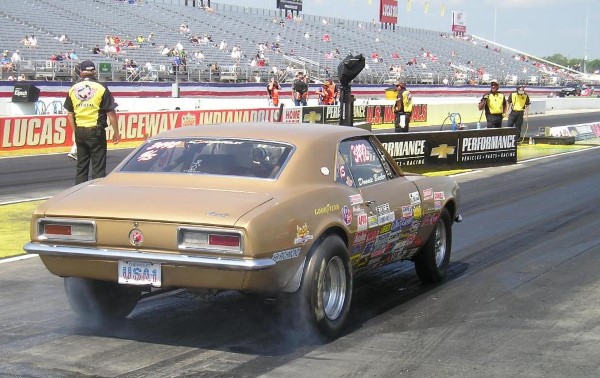 Donnie Beeler's 1967 G/Stock L30-M20 Camaro.  This 1967 327-275 hp Camaro is capable of running in the 10.70 zone with minimal modifications!  That's with a stock Quadrajet carburetor, stock cast iron GM intake manifold, stock non ported #462 cylinder heads, flat top pistons and stock lift camshaft that measures .398″ lift on the intake and .41o" on the exhaust.  Here's Donnie's car at the 2014 NHRA U.S. Nationals held in Indianapolis, IN.  Donnie went to the G/Stock class final at this race.  Without a doubt, Donnie's Camaro (Goldie as he calls her) is the fastest 327-275 hp Stocker in the country.
Ben & Dave Wenzel's one owner 1967 Z28 Camaro, Freeland, Michigan.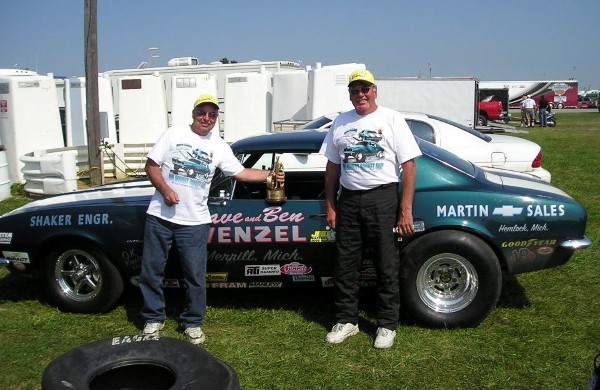 Ben Wenzel purchased this 1967 Z28 Camaro brand new at Martin Chevrolet Sales in Hemlock, Michigan on June 9, 1967.  In September 1967 Ben won the NHRA Stock Eliminator championship at the U.S. Nationals in Indianapolis, Indiana with his brand new 1967 Z28 Camaro.  47 years later, Ben & Dave Wenzel still continue to race this piece of NHRA history.  A one of a kind story for a one of a kind Camaro.  Below is a photo of Ben & Dave's 1967 Z28 Camaro in the winner's circle at the 1967 U.S. Nationals.
Jim Meador's 1967 SS396 Camaro, Yorba Linda, California 
Here's Jim Meador's 1967 396 Camaro.  Here is Jim in the final round for the NHRA Stock Eliminator win at the 2011 Las Vegas Nationals.  This 395-325 hp Camaro is capable of running in the 10.50's zone.
Tim Bishop's late model Firebird, Queenstown, Maryland
Tim Bishop's multi national record holding B/Stock late model Firebird.  Tim is the 2010 NHRA U.S. Nationals Stock Eliminator champion.  This shot was taken at the 2014 U.S. Nationals in Indianapolis, IN.   Powered by a Burtonsville Performance Machine late model LT-1 350 V-8, this is one of the quickest B/Stockers in the country.