Jerry MacNeish
5750 Kinsmen Courage Ct.
Eldersburg, MD 21784
Drivetrain Restoration
Exhaust Manifold Restoration
Holley Carburetor & Delco Distributor Rebuilding and Restoration
Aluminum Block Repair
Aluminum Intake Manifold Repair
Engine Rebuilds
Engine Bay Detailing
Distributor Restoration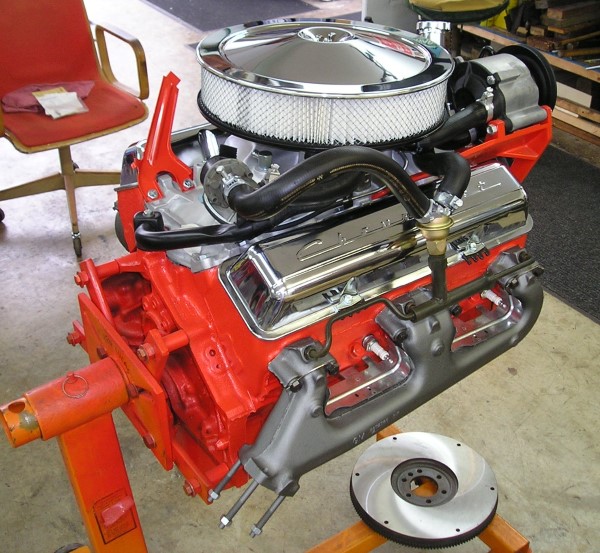 Here's an example of a 1967 302 Z/28 engine that we just restored. Ultra rare 302 with K19 smog.


Drivetrain Restoration:
Jerry's specialty!  Jerry has specialized and prided himself in rebuilding, blueprinting, and restoring Muncie 4-speed transmissions and has collected thousands of spare tranny parts since the late 1960's.  Rear axle housings…MacNeish has set up thousands of ring & pinions over his 45 year racing career, he's rebuilt positraction units or did complete overhauls.  With over 43 years experience in performance cars and drag racing, Jerry has the wisdom for all of these tasks and has always done the job right!  Just look at the stats on his current NHRA national record holding 1967 Z28 Camaro.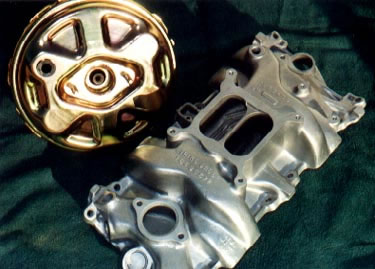 Here is an aluminum intake manifold that MacNeish restored years ago. Next to it is a power brake booster rebuilt and replated by Jerry back in the 1990's!  It still looks great!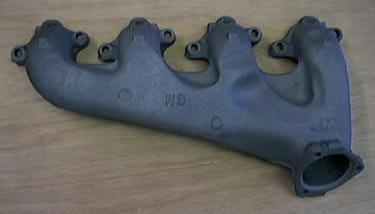 Exhaust Manifold Restoration:
Another one of MacNeish's specialties, Jerry has been exclusively known for his famous "re-skinning process." When restored, he has always guaranteed that your exhaust manifolds will look new and fresh for the life of your vehicle. You'll never have to worry about rust, messy pastes, or protective paints ever again.
ATTENTION CAR ENTHUSIASTS, IT'S HERE!!!   MacNeish is now offering cast iron welding repair service. Check out the before and after photos here. This very rare 1969 right side Z/28 exhaust manifold was destroyed and broken in two pieces.  Jerry's welder is now able to repair any broken or cracked exhaust manifold.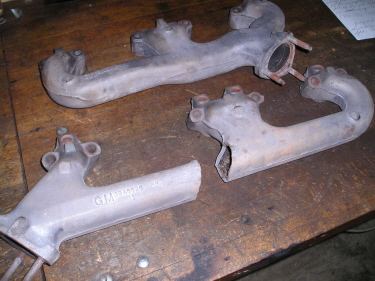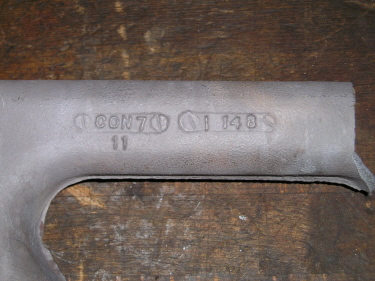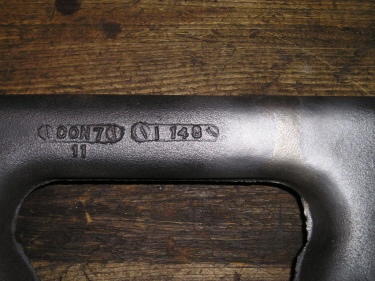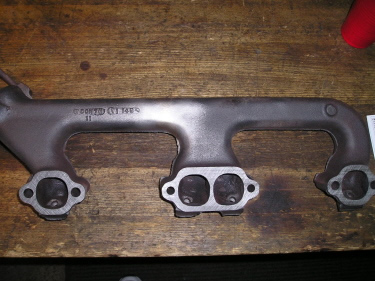 When MacNeish is done, your manifold will be just like brand new!  Jerry's famous reskinning process is also recommended to preserve your manifolds and keep them looking brand new for the life of your car.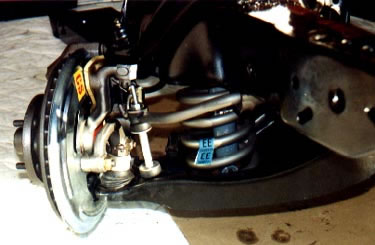 Close-up of sub-frame restored by Camaro Hi-Performance
Holley carburetor & Delco distributor rebuilding and restoration:
CAMARO HI-PERFORMANCE offers expert care and service on carburetor rebuilding. We also specialize in the rebuilding and blueprinting of original Chevrolet distributors.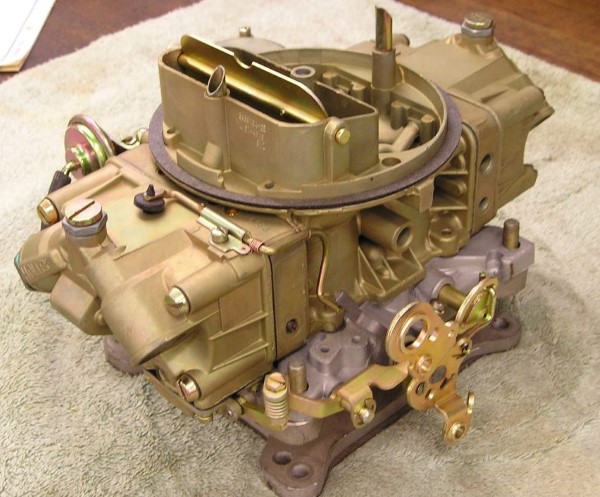 Aluminum Block Repair
INCREDIBLE ALUMINUM REPAIR!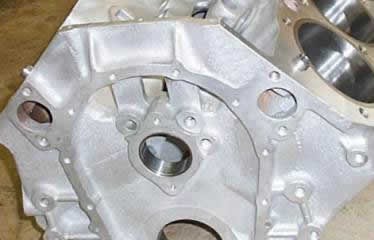 Before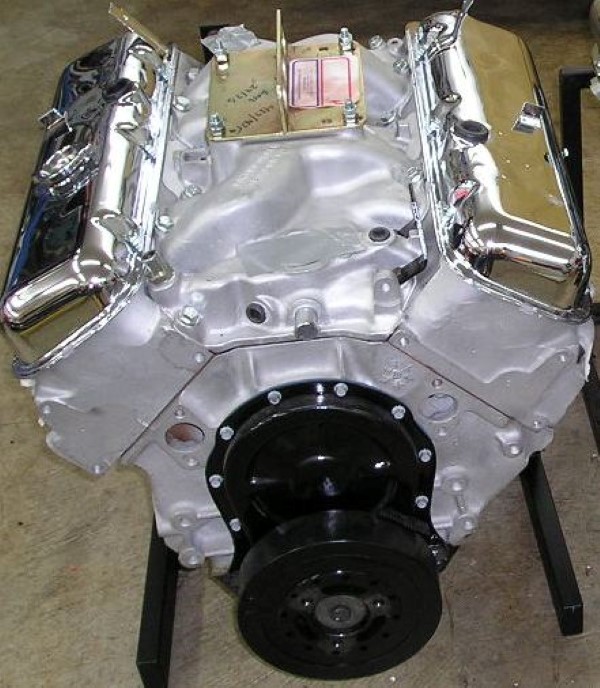 After
Many years ago, one of the owners of this original all aluminum ZL1 Camaro engine block had ground off the "Winters" logo located on the front face of this block. Camaro Hi-Performance recreated this factory casting from scratch using an old aluminum racing piston. We used a hole saw to cut into the front of the block and inserted the new recreated "Winters" casting logo. After precise welding and our reskinning process, not even the most detailed inspection could reveal this repair. Ask about our aluminum repair services…..we are simply the best!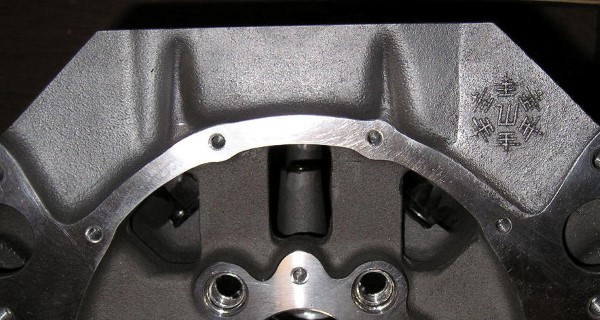 Have one of those new ZL-1 engine blocks, we can install the original Winters logo for you.  Many enthusiasts seem to want that original look on these new engine blocks.  At Camaro Hi-Performance, we pride ourselves with expert installation.  Above is one of our Winters logo installations on a new Chevrolet engine block.  We make the logos here at CHP and install them perfectly.
Aluminum Intake Manifold Repair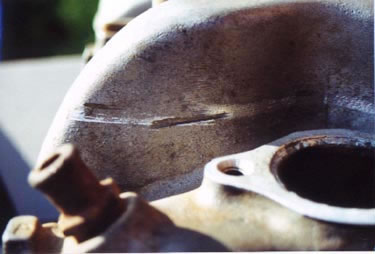 Before #1 with saw blade cut in runner.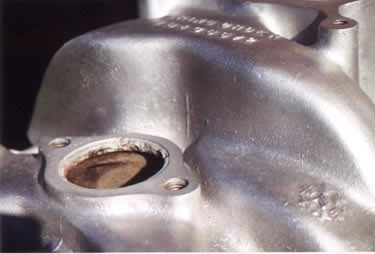 After repair, the saw blade cut is gone and the intake is like new.
Extensive intake manifold repair.  This Corvette tri power intake was in an engine fire.
After careful surgery, we installed a new section from another manifold and blended it
in perfectly.  The intake was also check for flatness and then tumbled.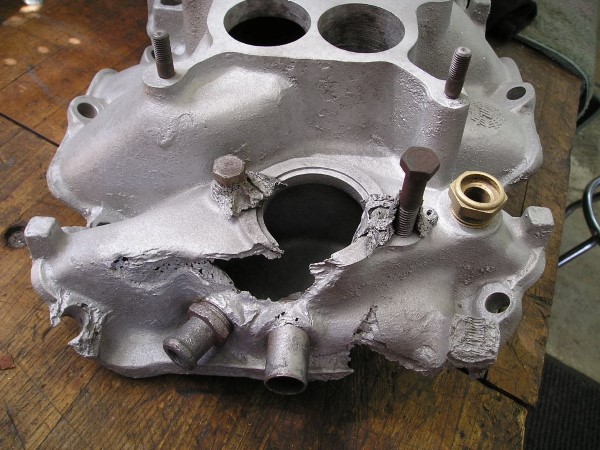 Below is the old burned up section from the original intake and the new one installed ready for restoration.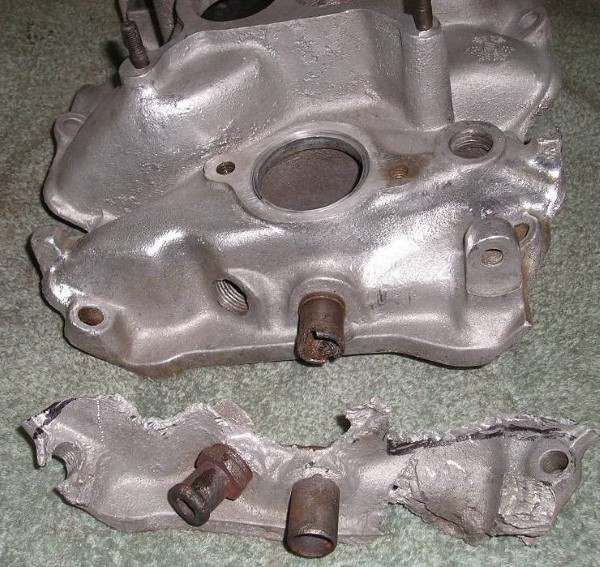 Below is the original tri power intake that was in the engine fire.  You'd never know it after the perfect repair and restoration. This is why Camaro Hi-Performance is #1 in aluminum restoration.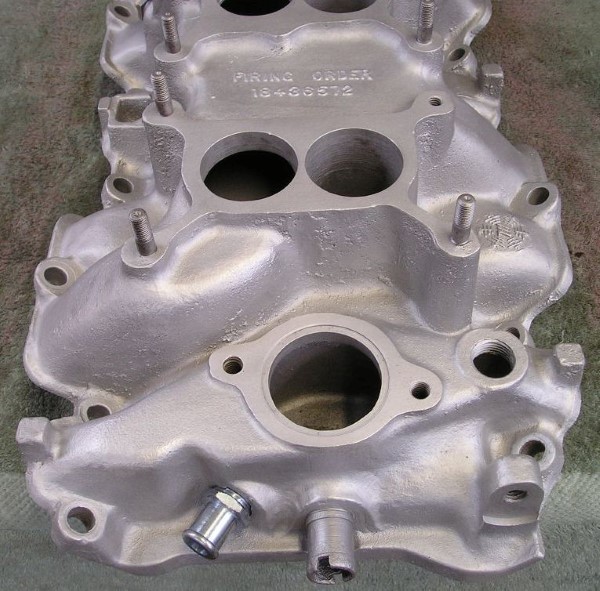 More incredible aluminum repair.
This ultra rare Chrysler cross-ram intake was in bad shape due to water damage over the years. Check out the photo when it came into our shop. Very bad corrosion.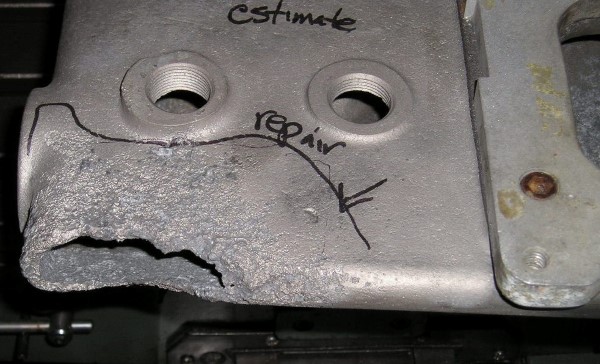 Here is the cross-ram intake after aluminum repair and restoration.  Mint, like brand new and ready to install.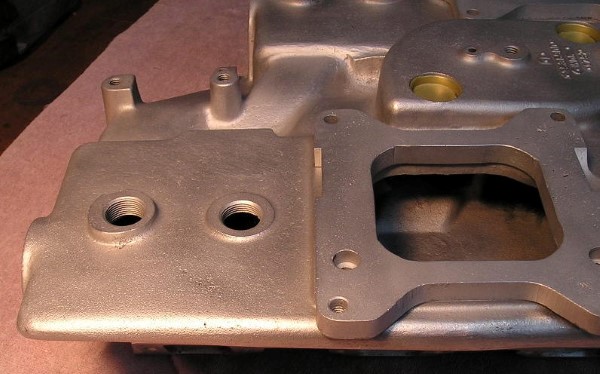 EXPERT ENGINE REBUILD AND RESTORATION
Having trouble finding a reputable engine builder to rebuild your number's match engine, Camaro Hi-Performance offers complete engine rebuilding and concours detailing to factory specs. We offer reasonable rates and have the expertise to get your engine to our premises and back to you safe and sound. Check out the photos below.
Yes, here are three Z28 engines under final assembly and restoration. Ready for the dyno and engine break in.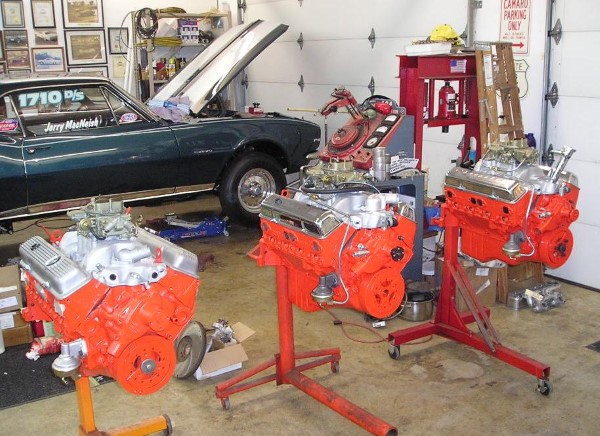 Here's Dan Cline's 1969 302 engine on the Burtonsville Machine dyno, This engine generated 365hp. All stock!
All engines are professionally strapped to a pallet and shrink wrapped before it leaves our facility.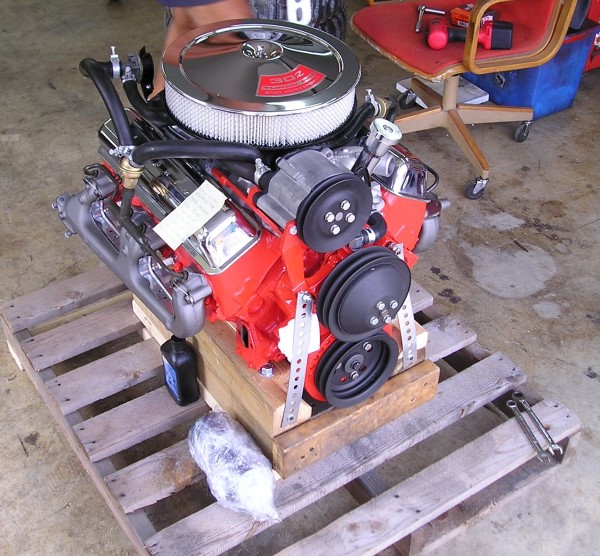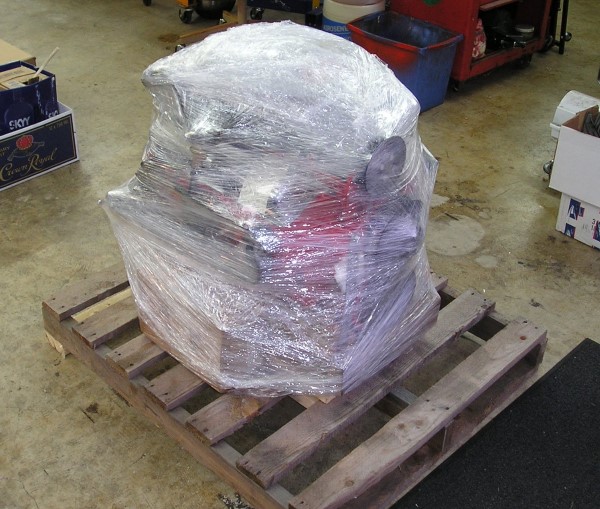 Distributor Restoration: Simply The Best!  Ask our customers.
Need your distributor restored, then you've come to the right place. Camaro Hi-Performance specializes in AC Delco distributor restoration and pride ourselves as being the best in the business. If you don't believe us, read our customer feedback. We restore more distributors than anyone in the restoration business. Here are some of the facts: we first disassemble all distributors to inspect for wear. We reskin (a gentle tumbling process) that restores the aluminum housing to brand new original condition. Cast iron units are glass beaded and painted semi gloss black. When the assembly process begins, we blueprint every distributor checking and setting clearances for ultimate performance. A new Delco vacuum advance is installed and the distributor is tested on Sun #404 Distributor machine. High-quality Accel points and condenser are used and tested to 8000rpm. You also receive a certified calibration data sheet showing every detail about your unit and how the curve is set up.
PHOTO #1
This photo shows an inferior rebuild from a shop in Pennsylvania, note that we have a feeler gage showing about .070″ in end play between the distributor housing and the gear. This is poor rebuilding practice and unacceptable. This much clearance will cause serious dwell fluxuation problems.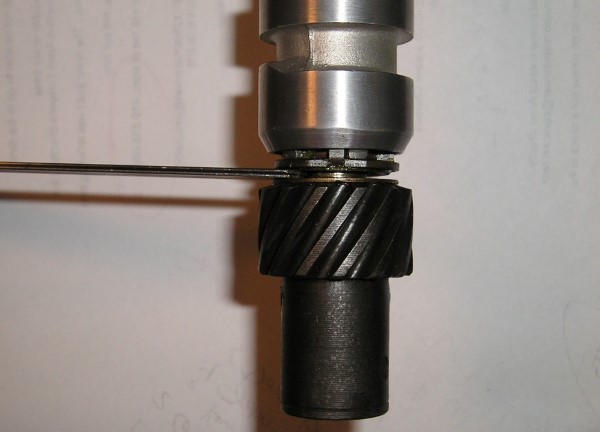 PHOTO #2
Here is the gear end clearance setting done by us. We set all end clearances AT .015″-.020″ eliminating all end play and dwell fluxuation issues.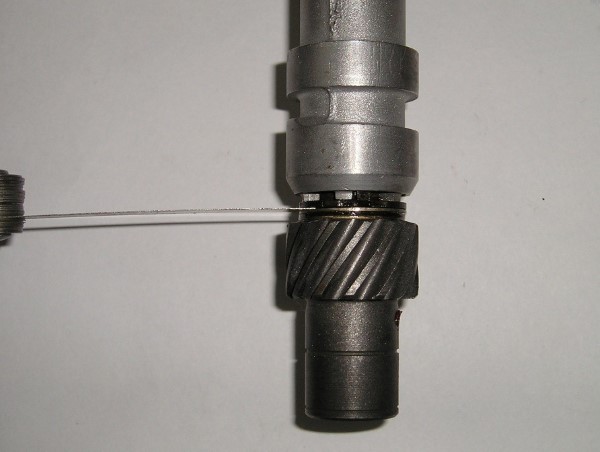 We use a special light weight spring that lets all of the centrifical advance come in at 2400-2800rpm. Setting up your distributor this way increases power, throttle response and better engine.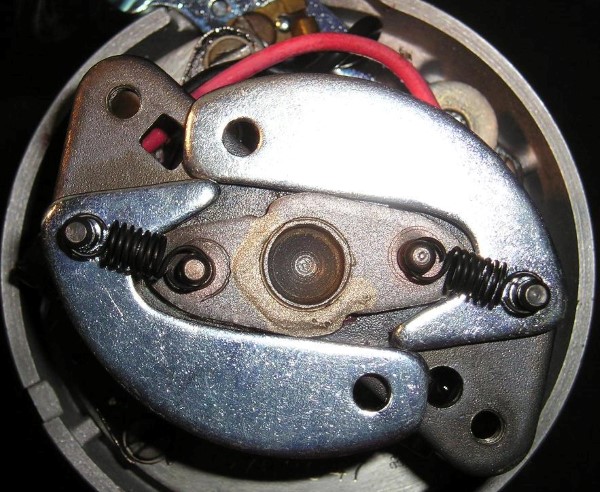 Our competitor uses stock heavy weight springs that won't allow your centrifical advance to work properly. With these springs, total centrifical advance will not come in until 5500rpm. Throttle response suffers and you lose power and idle characteristics.
Our competitor uses inferior points (only good to 5000rpm) without a lubricated felt pad on the point rubbing block. Doing this will wear out your point rubbing block in no time and cause dwell problems!
We use a high quality Accel GM point set that tests well to 8000rpm. We also install a felt rubbing block to keep wear to a minimum.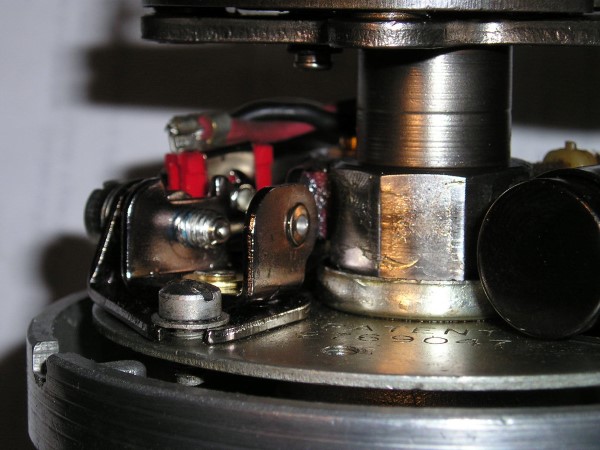 The finished product at Camaro Hi-Performance:  A nicely restored 1111480 distributor for the '69 Z28 Camaro.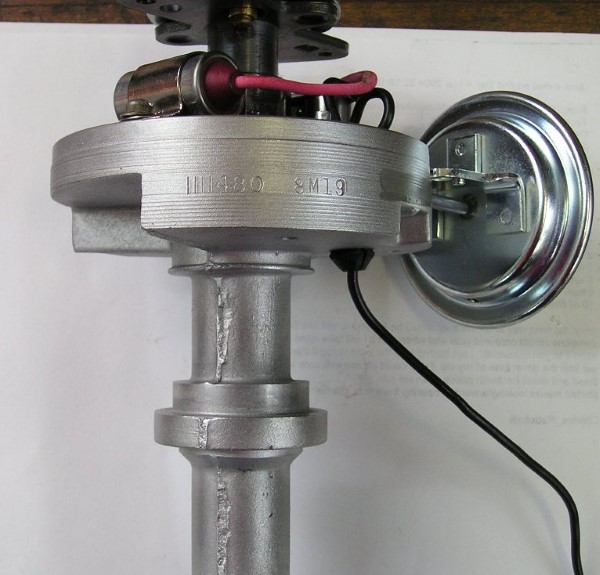 Calibration certificate that comes with every distributor that we restore for our customers.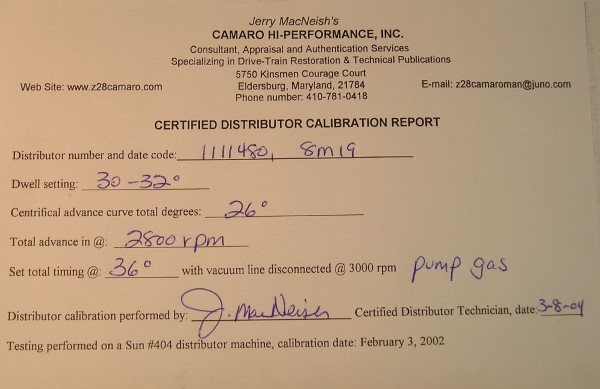 Take a look at our Sun 404 distributor machine.  Every distributor gets set up and tested here.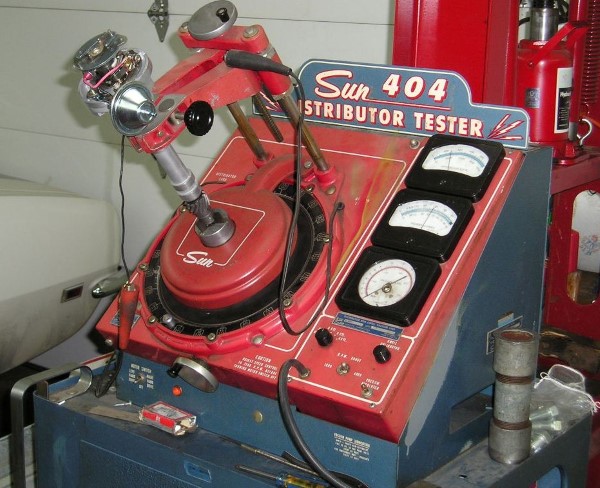 Shrink wrapped and ready to ship back to the customer.  CHP is your #1 choice for distributor restoration.