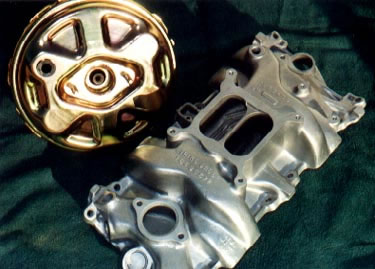 RARE NOS PARTS FOR SALE
Rare, 1968 Z28 chrome oil fill tube, #3937064: $125.00
Complete original COPO BE rear axle assembly, stamped BE0624G2. What makes this assembly we have so rare is the fact that the original 3916234 carrier and ring & pinion are still original to the housing. This housing was checked for straightness at Bob Bailey Racing, who specializes in 12-bolt rear axles. $17,995.00. Guaranteed and certified original BE rear axle assembly.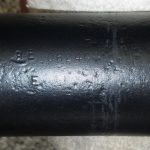 1968 1111169 distributor dated 8E14 for the 396-325 hp L35 & L34 A/T Camaro, Chevelle and Nova SS. Restored by us and ready to install. $349.95
Muncie shifters, one Camaro, one Chevelle. $150.00 each plus shipping.
Up for sale is a complete original dated GM cross ram set up for the 1969 Z28. Every part is original and dated in 1969 including the carburetors. Comes with intake, carbs and original air cleaner. You will also receive a certificate of authenticity from Camaro Hi-Performance. This ultra rare Trans Am set up comes from an employee at Hendrick Motorsports. Carburetors are dated 914. Priced to sell at $23,995.00.

Original intake manifold base w/correct casting number and offset "26" casting digits. Original "IMP" inspection stamp from Winters foundry next to casting number.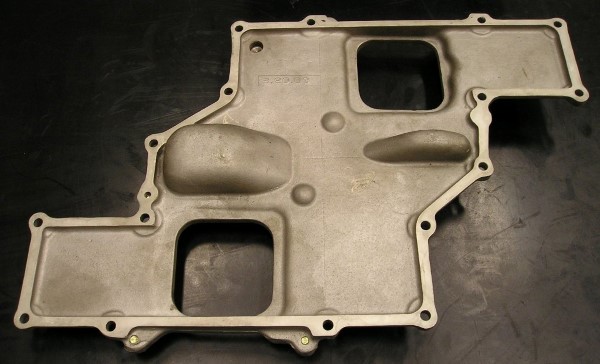 Above: cross ram top dated 3-20-69.

Original and correct base plates, not reissues or reproductions, know your part castings before you purchase for big $$$.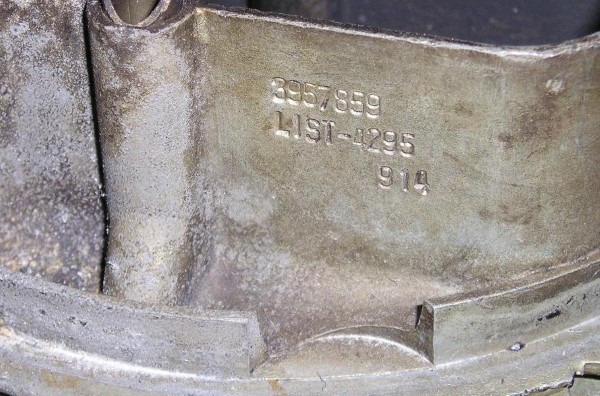 Above: original date matching #4295 Holley carburetors, unrestored & dated 914.

Original accelerator "flat style" pump covers with counter sunk screws.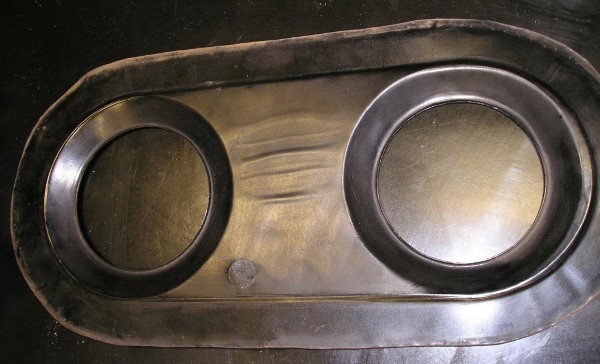 Above: Original base with factory rippled texture between the carb holes.
3919840 cylinder head, L218: $600.00
Pair of matching #186 1969 Z28 head castings, Sept of 1968, I168, I178: $600.00
NOS, 1968 Z28 & L78 deep groove smog pump pulley, #3925522: out of stock
NOS GM positraction stickers for trunk, #3745926: $35.00
NOS 1967-1968 Z28 smog pump adjuster brace, #3882887, recently found items: $250.00
1968 NOS restored original smog pump system for Z28, 302 engine, complete /shipping extra: $2995.00
1968 NOS restored original smog pump system for L34, L35, L78 396 eng, complete w/shipping $2995.00
1969 NOS restored original smog pump system for Z28, 302 engine, complete, plus shipping: $2195.00
1969 NOS restored original smog pump system for 396-427 Camaro, 396 Chevelle & Nova, $2195.00
1970 NOS restored original smog pump system for 396-454 Camaro, Chevelle, Nova, $2395.00
1970 NOS restored original smog pump system for Z28 LT-1 Camaro, complete shipping extra: $2195.00
Brand new! 1969 Camaro Z28 cross-ram intake manifold. Just off the presses, this new reproduction is by far the best and most accurate on the market today. After a very careful inspection and analysis from Camaro Hi-Performance, this manifold is "spot on" and identical to the GM unit. These intakes were originally used on stock engines that were not decked, however, on these new intakes, the intake bolt holes have been slightly elongated to compensate for engines that have been decked so it will fit on just about any small block Chevy engine. Also, unlike the other re-pops you see in the market place, most of them hit the valve cover. This brand new version does not!
When you pop the hood on a Z28, there is no better site than a 2×4 cross-ram set up. Selling price: $2,495.00. Call for any questions you have about this cross-ram. 630-408-9694. Email: [email protected].
SMOG SYSTEMS AND PHOTOS BELOW:
We can build your NOS smog system either functional or non-functional. There is no extra charge doing it either way. There are several advantages letting us build your system nonfunctional and we'll explain why:
#1. Gutting the smog pump and building it non-functional is the better way to go because there are no back firing issues when letting off the gas. Any time you let off the gas while driving your car you will experience back firing and popping. This was due to the smog pump and diverter valve pushing air through the system. There are documented cases of this backing firing destroying the exhaust system muffler. When gutting the drum in the pump assembly, your system will run quietly and look like its functioning fine.
#2. Smog tube plating, as we know, original smog tubes were plated in a black zinc finish. When running a functioning system, the 1200 degree exhaust temperatures exit through the tubes. Within a years time, the heat will take its toll on the black zinc plating destroying most of the factory finish. If we build the system non-functional, the tubes are plugged not allowing exhaust flow into the tubes preserving the plated finish.
#3. Exhaust flow, by letting us build your system non-functional, the exhaust port tube extensions are not needed. This will allow the exhaust to exit the cylinder head port without flow disruption increasing the horsepower in your engine. So as you can see, there are several advantages to letting us build your system non-functional. All systems on our own personal cars are non-functional too. And remember, Camaro Hi-Performance is your best choice for that NOS smog system you need for that Z/28, 327, 350, 396 or 454!
Photo of one of our complete NOS smog systems rebuilt and ready to go. This system is for a 1968 Z/28.
It comes with the following : restored original white fan pump dated to match your car, NOS DH diverter
valve, "522" deep groove pulley w/ "RBW" mounting bolts, smog tubes plated correct black zinc finish,
pump mounting bracket and adjusting brace, NOS "992" check valves, dated original hose clamps,
GM stamped hoses, and vacuum "T". All NOS systems that we sell are sold complete as shown here.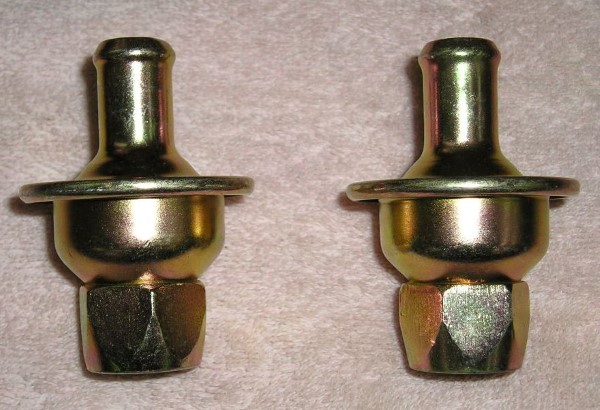 Here is a close up of our NOS "992" check valves.
Restored original white fan pump w/ NOS DH diverter valve.
Note the pump stamping date, 15781Y, decodes as the 157th day of 1968, with a Saginaw plant code
of 1Y. In the case of 1968 pumps, original pumps have been found with this julian stamping on the
machined flange shown here or right next to the machined flange as shown here in our photo.
Close up showing the original restored "RBW" pulley mounting bolts.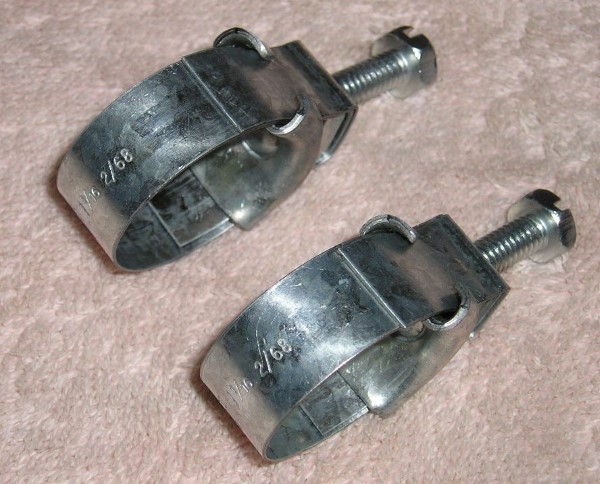 Close up showing the original dated hose clamps. If plating is poor on these original clamps,
we replate them to a factory fresh silver cad finish.
Here is a complete smog system for a 1969 Z/28.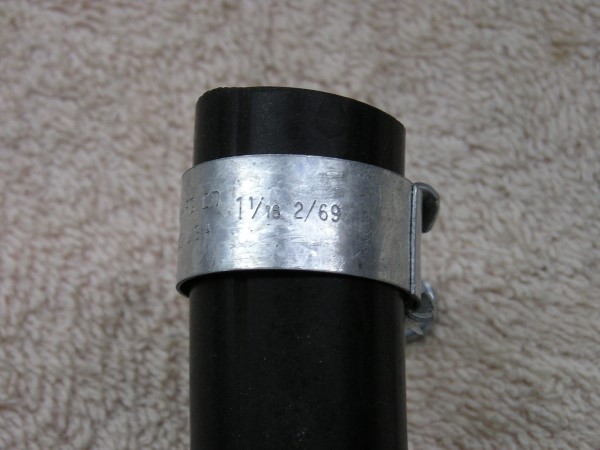 Clamps are dated 2nd quarter of 1969.
This original white fan pump date is the 248th day of 1969.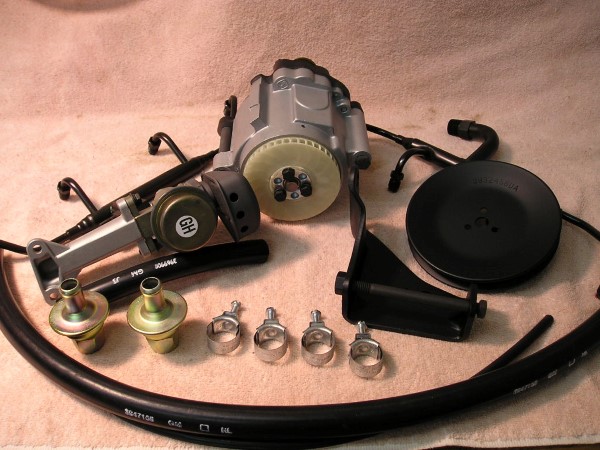 Here is one of our restored NOS smog systems for a 1970 396 or 454. It's complete and ready to install.
Close up shot of original dated hose clamps that we supply with every system.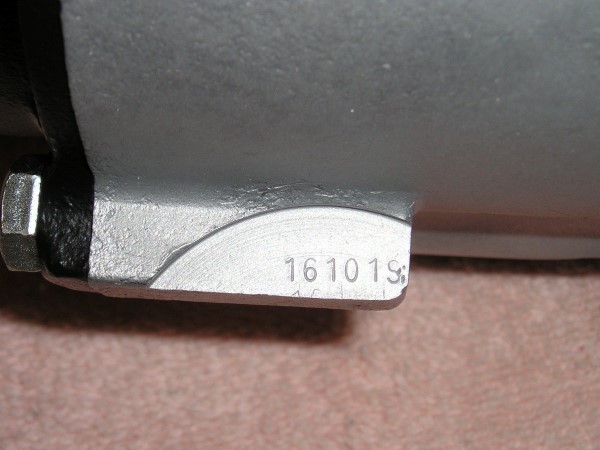 Close up shot of the white fan pump, note the date of 16101S. Decodes to the 161st day of 1970.
All pump housings are restored with our famous reskinning process and look brand new!