OUR NEW RESTORATION PROJECT, A VERY SPECIAL 1967 Z/28
On July 21, 1967, Walter Ray Fairall walked into A.D. Anderson Chevrolet and purchased a brand new 1967 Z/28 Camaro. At that time, Z/28s were really not known to the public, but there were a handful delivered to the Baltimore area. A.D. Anderson Chevrolet sold at least six Z/28s thanks to salesmen like Ray Martel who was plugged into the high performance car market. Only 602 1967 Z/28s were produced and this is the story about one of them.
Ray Fairall, as he was known to his friends had just put a down payment on a red 1967 GTO at Penn Pontiac in Baltimore, Maryland. But after talking to a co-worker and friend of his by the name of Charlie Martel, Ray decided to take a ride over to A.D. Anderson Chevrolet on Edmonson Avenue in Baltimore. This was July of 1967. Charlie Martel was a local car enthusiast and very successful drag racer during the 1960s. Charlie had a '55 Chevy called "Martel's Modified" that ran NHRA's F/Modified Production class. Martel's small block '55 Chevy was one of the most dominant Modified Production race cars in the Baltimore area.
Charlie's brother, Ray Martel, was a salesman at A.D. Anderson Chevrolet. Ray told his brother Charlie to send 'your buddy' over to A.D. Anderson Chevrolet. We have two 1967 Z/28s parked right in front of the showroom window right now. It was during the spring of 1967 that Ray Martel had told his brother Charlie about a new high winding 302 small block that was just introduced in the Camaro. A.D. Anderson Chevrolet was known for selling high performance cars so it wouldn't be long before they would receive one. Our research shows that one of the first 1967 Z/28s delivered to the Baltimore area was shipped to A.D Anderson Chevrolet in March 1967.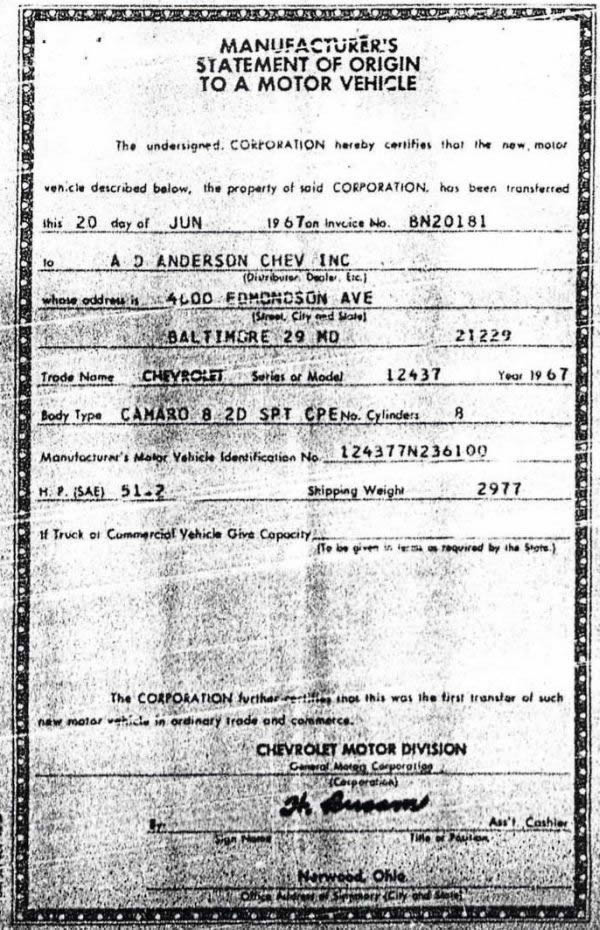 Original AD Anderson Chevrolet MSO, June 20, 1967
When Ray Fairall arrived at the dealership, there were two 1967 Z/28s on the premises, a white Z/28 with black stripes and a Tahoe turquoise version of the same car with white stripes. Both were rally sports as Ray recalls! The turquoise car jumped out at him because of the 4.10 rear axle and white deluxe interior. Ray also recalls that the 4.10 rear axle is what really tipped the scales over the white Z/28 as it was equipped with a 3.73 axle. As soon as Ray started the engine and heard the camshaft and solid lifters, the turquoise Z/28 was sold and the GTO order was cancelled.

Original dealer invoice 7-21-67.
Options on the Ray Fairall Z/28 included Z87 white deluxe interior, Z22 rally sport package, D33 remote outside mirror, B93 door edge guards, J52 power-disc brakes, G80 4.10 positraction rear axle , and U63 AM radio.


Original Protect-O-Plate
During the first year of ownership, Ray used his Z/28 as daily transportation commuting from Glen Burnie, Maryland to his place of employment, the Westinghouse Corporation in Hunt Valley, Maryland, which was about a 30 mile commute one way. During this time some warrantee issues surfaced that needed to be addressed so the car was back at A.D. Anderson Chevrolet before it was a month old – August 7, 1967 to be exact! Dealer invoices show that there were problems with back firing through the carburetor, noises in the clutch, shifter stuck in 3rd gear, vent window adjustments, and so on; typical problems with a new high performance car. Ray was still thrilled to own this factory-built hot rod as it was one of the fastest street cars in his neighborhood.and for a 20-year kid from Glen Burnie, Maryland, owning this car was a dream come true.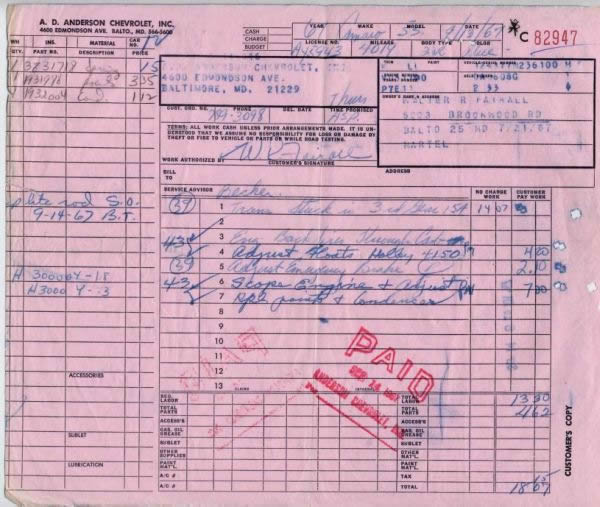 AD Anderson Chevrolet warrantee work order 9-13-67.