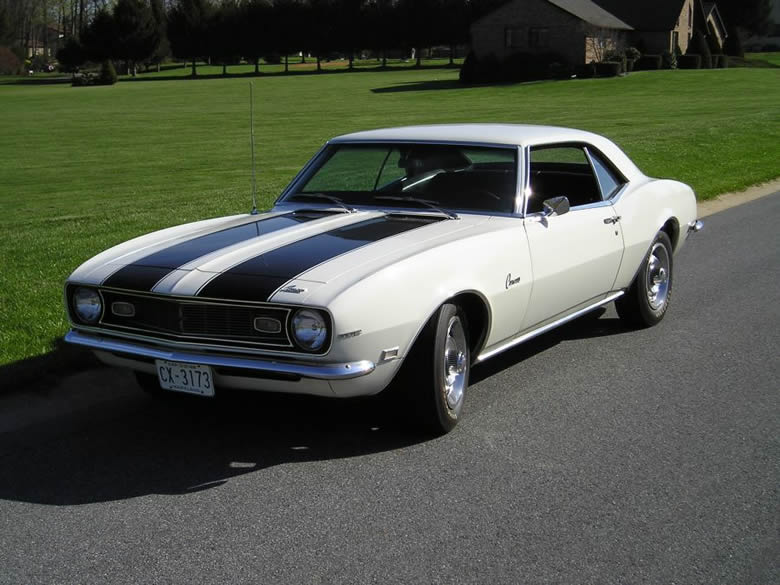 For you Camaro enthusiasts who love original unrestored cars, you'll love our original paint Ermine White'68 Z/28 with only 22,000 original miles showing on the odometer! This 1968 Z28 is the only one known to exist with all of the factory installed high performance options and full documentation to back it up.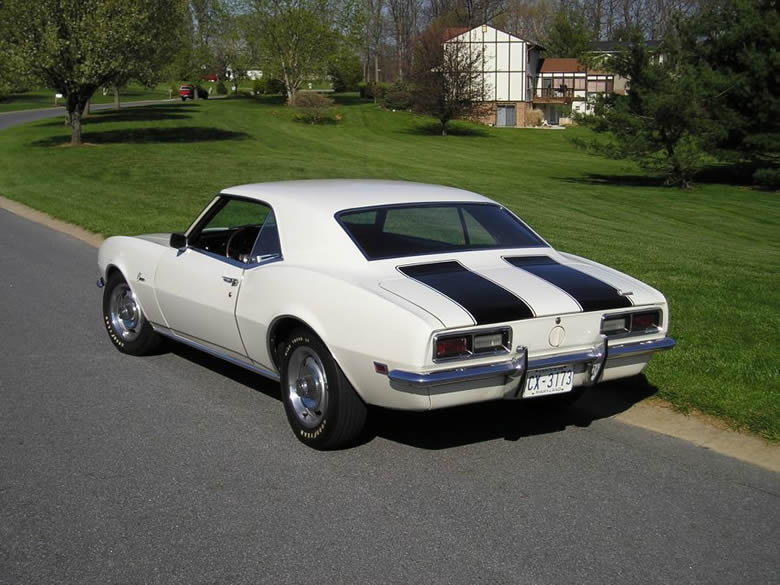 This Camaro scored an amazing 926 point Silver award in the survivor class at the 1993 Camaro Nationals held in Dearborne, Michigan. It features some of the rarest and most desirable options ever offered on a 1968 Z/28…cowl plenum air cleaner assembly, factory Kustom headers, Muncie M/22 "rock crusher" 4-speed , 4.88 posi rear axle, 8-track tape player, console, gauges, wood steering wheel, auxiliary lighting, tinted windshield, floor mats, style trim group, special interior group, AM radio and rear defogger are just a few of the options on this fully documented Z/28. Oh, by the way, this Z/28 is still sporting its original plug wires.
In 1993, we took this Z28 to 75-80 Dragway. In bone stock condition, we ran 12.90s at 108 mph through the mufflers on street tires. If you don't believe it's a factory built rocket ship, ask some of our customers who have ridden in the "white rocket." One of the most fun Z28s you will ever drive.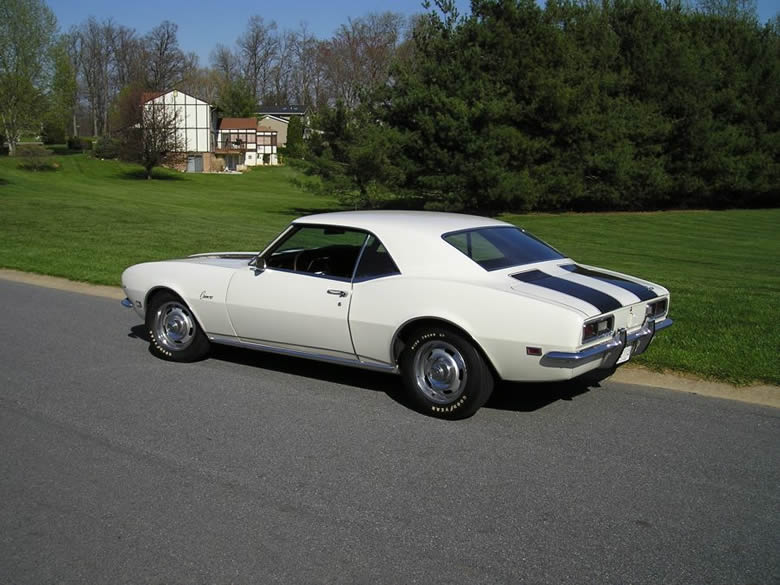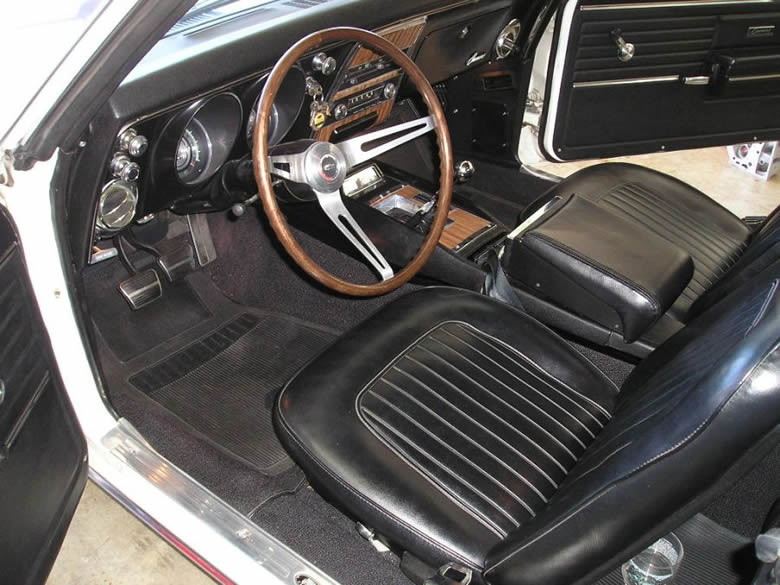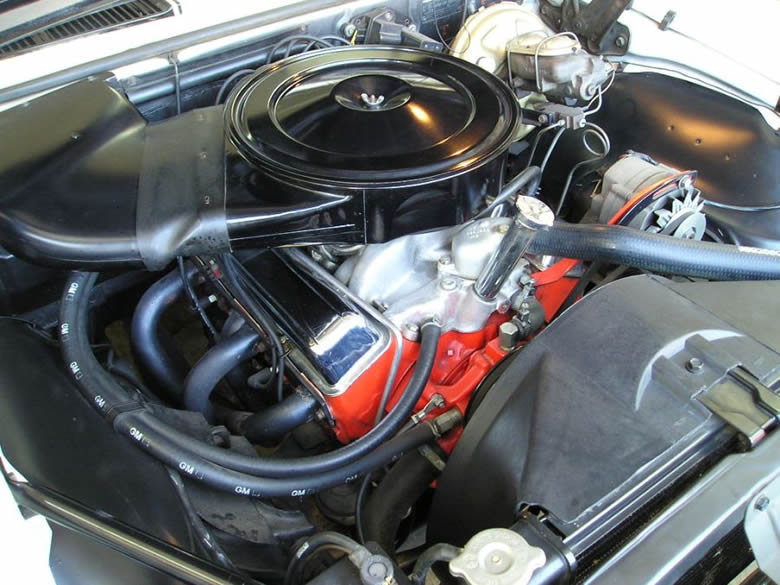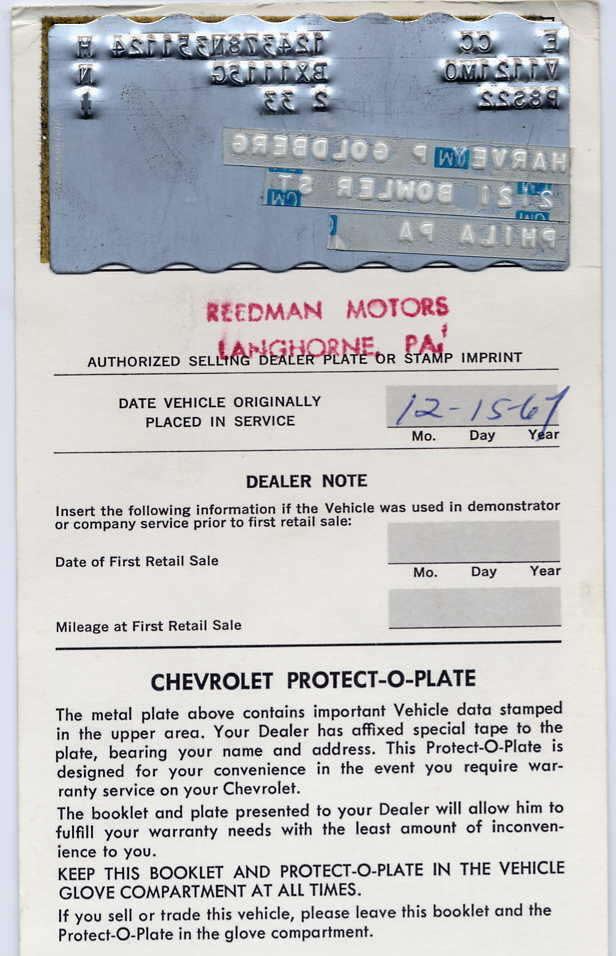 VEHICLE DATA:
BOUGHT NEW AT:
REEDMAN MOTORS, ROUTE 1, LANGHORNE, PA 19047
PURCHASE DATE:
DECEMBER 15, 1967
VIN:
124378N351124
BUILD DATE:
11E (last week of November, 1967)
NORWOOD NUMBER:
51106
INTERIOR TRIM:
712
EXTERIOR COLOR:
C-C (Ermine white)
ORIGINAL FACTORY OPTIONS:
DOOR EDGE GUARDS
$ 4.25
POWER DISC BRAKES
$ 100.10
SPEC PERF EQ (Z/28-4 PACKAGE)
$ 858.40
SPECIAL 4-SPD TRANS (M22)
$ 310.70
POSITRACT AXLE 4.88 RATIO
$ 42.15
SPEC INSTRUMENTS
$ 94.80
AM RADIO
$ 61.10
CENTER CONSOLE
$ 50.60
FLOOR MATS
$ 10.55
SPORT STEERING WHEEL
$ 31.60
TINTED WINDSHIELD
$ 21.10
REAR WINDOW DEFROSTER
$ 21.10
STEREO TAPE SYSTEM
$ 133.80
AUXILIARY LIGHTING
$ 13.70
STYLE TRIM GROUP
$ 42.15
SPEC INTERIOR GROUP
$ 17.95
LIST PRICE TOTAL:
$ 4545.80
TECHNICAL DATA:
CARBURETOR:
HOLLEY #4053, DATED 705
ALTERNATOR:
1100814, DATED 7H10, "CK"
BLOCK CASTING:
3914678, CASTING DATE J97, ASSM DATE V1121MO
TRANSMISSION:
CASE #3925660, STAMPED P8S22
REDUCTION BOX:
FOR SPEEDOMETER, 6476736, 1.777
DISTRIBUTOR:
1111266, DATED 7G20
FLYWHEEL:
3791021, DATED K157
STARTER:
1108367, DATED 7H8
REAR AXLE:
AXLE TUBE STAMPED "BX1115G" (4.88 RATIO)
REAR AXLE CASTING:
DATED K87
CYLINDER HEADS:
3917291, J77, K17
INTAKE MANIFOLD:
3917610
WATERPUMP:
"326", DATED H27
BELL HOUSING:
3858403
FACTORY HEADERS:
KUSTOM, STAMPED "KH37"
A.I.R. PULLEY:
DEEP GROOVE, STAMPED 3925522
A.I.R. PUMP:
7801149, GREEN PAINT MARKINGS
ORIGINAL PLUG WIRES:
DATED 1-Q-67
DELCO COIL:
"202"
DIVERTER VALVE:
EARLY, STAMPED "CT", #7034481
VOLTAGE REGULATOR:
DATED 7K
GAS TANK:
DATED 10-15-67
REAR SHOCKS:
#3192851, DATED 262-67, 285-67