In the Fall of 2007, I retired the Dave Strickler Old Reliable Z28 from NHRA competition. Because of the rising value of famous nostalgia race cars, it was time to pass this legendary car on to a car museum or muscle car collector who will give it a good home. I had owned this Z28 for 21 years and enjoyed many great moments with this race car. In January of 2008, Camaro Hi-Performance dismantled this car and did the necessary restoration work and put this Z28 back to its original 1968 race configuration when it won the NHRA world championship title. Every detail is right on the money down to the original Stahl front drag tires, tachometer and cowl plenum air cleaner.
The car was sold at the Barrett Jackson 2014 Scottsdale auction. The new care taker of this piece of race history is Mr. Rick Hendrick. Old Reliable is now in Mr. Hendrick's personal collection at the Heritage Center in Charlotte, NC. This famed Z28 could not have found a better home. Mr. Hendrick is known for collecting famed NHRA race cars from the 1960's and '70's.
This is without a doubt, the most famous Z28 of all time. Read about this car's legendary history below.
Vintage Photos and Ads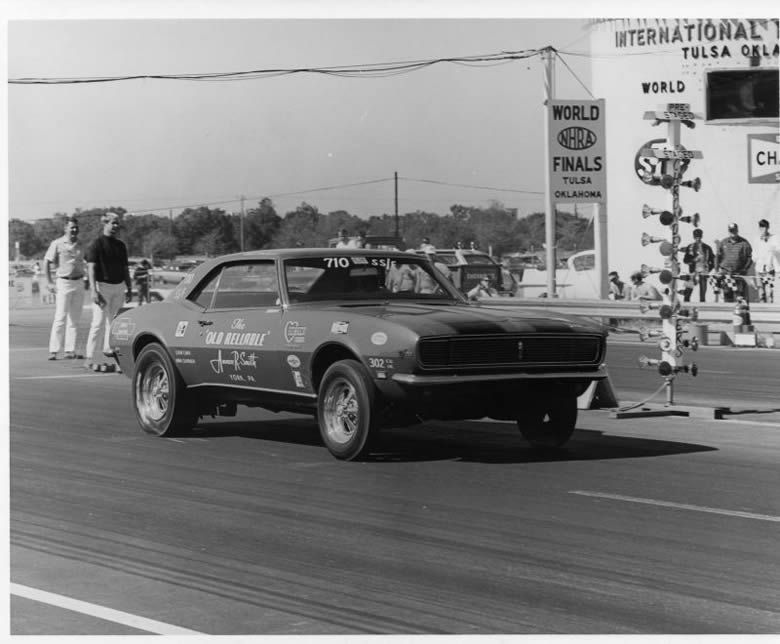 The NHRA World Finals, October 20, 1968
Racing legend, Dave Strickler, campaigned this Jenkin's prepared Z/28 Camaro and dominated the ranks of NHRA Super Stock racing during the 1968 season. During the summer of '68, Strickler racked up several wins and runner-up titles at various NHRA Super Stock meets throughout the country. On Sunday, October 6, 1968, Dave drove to a decisive victory over a stellar field of Super Stocks at the NHRA Super Stock All-Star Meet held at Raceway Park in Englishtown, New Jersey. Strickler then went on to capture and win the 1968 Super Stock World Championship title in Tulsa, Oklahoma on October 20, 1968. This was the most prestigious NHRA drag racing event to win!
During the 1968 season, "THE OLD RELIABLE" Z/28 ran elapsed times of 11.70's at 116 mph keeping up with many Super Stock 396 Camaros! This was a stock Z/28 intake manifold and carburetor, stock hood, Stahl Headers, 5.38 gears, and nine-inch slicks.

Semi-final round, NHRA World Finals, October 20, 1968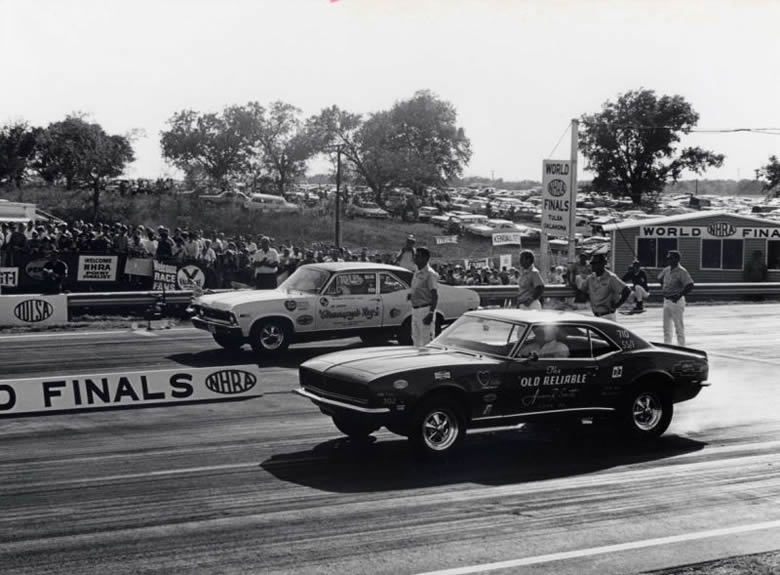 This "Old Reliable" Z/28 was featured in over 30 automotive publications during 1968 and 1969 making it the most famous Z/28 Camaro in race car history! Champion Spark Plugs, and Hooker Headers, two original sponsors, featured this car in their 1968 national advertising, placing ads in virtually all major automotive publications. Thousands of Camaro enthusiasts throughout the country were influenced by this "World Class" Camaro.
The Dave Strickler legacy speaks for itself. Sixteen national class championships, forty-one national and world records, and a world championship title
In March of 1993, Jerry MacNeish located and purchased Dave Strickler's OLD RELIABLE Z/28 race car. It was actually through the help of Michael Strickler (Dave's son) that MacNeish was able to track the car down. The Strickler family had kept documentation with the vehicle's VIN number.
In the summer of 1993, the detailed restoration began. Many of the original racing components were found and reinstalled. Appearance wise, OLD RELIABLE looks exactly like it did during the summer of 1968. All original decals were found and the lettering was duplicated from original photos supplied by the Strickler family.
In the summer of 1994, OLD RELIABLE made it's debut at Super Chevy Weekend held at Maple Grove Raceway in Reading, PA.
Today, we currently own and are campaigning Dave Strickler's original "OLD RELIABLE" World Championship Z/28 in NHRA's Stock Eliminator Class. Strickler's Camaro is still equipped with an original balanced and blue printed 302 engine. In 1998, "OLD RELIABLE" ran consistent elapsed times in the 11.20's at over 119.00 mph, (and that's without a crossram!). Not too bad for a stock 302 engine. In 1994, the "OLD RELIABLE" Z/28 Camaro won the prestigious "Best of Show Award" at the US Camaro Nationals held in Dearborne, Michigan. In 1995, MacNeish finished the racing season placing 11th in Division One out of 185 drivers in NHRA's Stock Eliminator Class.
In 2002, we won the Delmar, DE US-13 NHRA divisional points race and finished out the season in the top 10 placing 8th for the year in Division One and 24th in NHRA world points having our best season ever. Currently, the "OLD RELIABLE" runs 10.80s at almost 123 mph. Since 1998, we have accomplished many NHRA class wins and several Stock Eliminator wins. We look forward to having the same success with our new 1967 Z28, Project Stocker.
For you drag racing enthusiasts, there is a five-page feature story on "OLD RELIABLE" in the May 1996 issue of Super Stock Magazine. We pride ourselves on our accomplishments in the Camaro hobby and hope that you the Camaro enthusiast enjoy reading about our endeavors.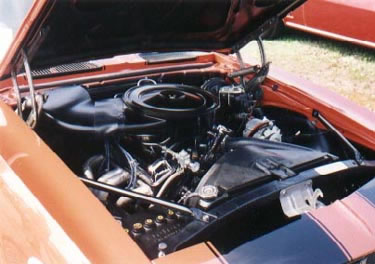 If you have an interest in booking Dave Strickler's Old Reliable Z/28 for car shows or racing exhibitions, contact Jerry MacNeish at Camaro Hi-Performance.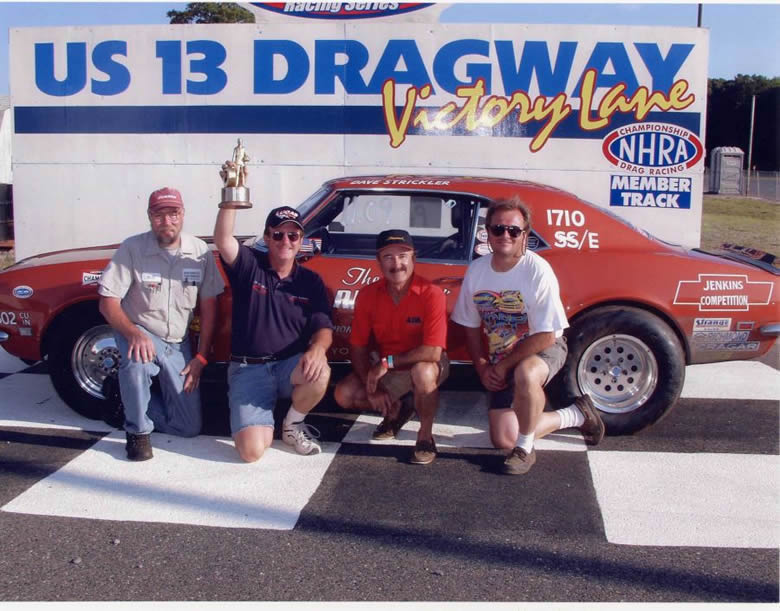 (Delmar Win, 6-02) This photo was taken in Victory Lane after "winning" the NHRA Delmar, DE US 13 points race, June 2002.
From left to right, engine builder, Bub Whitiker, Jerry MacNeish, Tim Bishop, and Mark Dickerson.
Jerry MacNeish and the legendary Bill "Grumpy" Jenkins at the 1994 NHRA Keystone Nationals, Maple Grove, PA.
TECHNICAL DATA
VIN number
124378N411100
Build Date
04A (first week of April)
Color
Corvette Bronze
Interior
Code 712, black standard
Car Shipper
Shipped on April 11, 1968 to Ammon R. Smith Auto Company, York, PA
Engine Data
Cubic Inches, 302
Cylinder heads
#3917291, completely stock, no porting allowed!
Stock rocker arms & valve springs
Intake
302 aluminum intake, casting #3917610
Carburetor
Holley, #4053, 780 CFM 4bbl
Camshaft
Crane, .480 inches lift, 272 degrees duration, valve lash, .016-.016
Pistons
GM 302, .030″ oversize
Horsepower
456 @7700rpm
Rear Tires
9″ x 30.0″ Hoosier's
Rear axle & ratio
12-bolt, 5.57 Richmond Pro Gears
Clutch
10 inch, three finger from Advance Clutch Technology
Shift Points
8200 RPM
BEST ET
10.80 @122.30mph