OUR NEW RESTORATION PROJECT, A VERY SPECIAL 1967 Z/28
On August 12, 1968, Ray was drafted into the service. Ray's dad, also a Walter Ray Fairall, cared for the car while Ray Jr. did his hitch in the Army. Over that two-year period, Ray's dad took care of the maintenance on the car and occasionally street raced from stop light to stop light with the locals. Ray Jr. had told me that his mom was always upset when dad took the Camaro out for a spin. Seems he was always hot rodding the Camaro on the street through the neighborhood. Why not? He was driving a factory-built race car that would become legendary in the world of Trans-Am racing and NHRA drag racing by the end of the decade!
When Ray Jr. returned home from the service in August of 1970, the Z/28 Camaro became more of a dedicated hot rod rather than his everyday transportation. Eventually, the engine was removed and taken to "Little Howard", a local engine builder that had an excellent reputation for building NHRA drag racing engines. When the engine was reinstalled, performance gains were off the charts.
It was the Fall of 1970 when I first met Ray Fairall. We were both at Capital Raceway in Crofton, Maryland during a time trial session. I was racing my new 1969 SS396 Chevelle. I remember our first meeting like it was yesterday. Ray's Tahoe turquoise paint and white Z/28 stripes hit you right between the eyes. In those days, the only Camaros you saw with Z/28 stripes were actual Z/28s. As we know, in later years everyone installed Z stripes on all Camaros. Back then Z/28 stripes were different and unique.
What amazed me was the performance out of that little 302 engine. I had this big new 396-375 horsepower Chevelle. In those days, we ran seven-inch rear slicks and open headers. Capital Raceway had a bracket racing program for all of the locals like Ray and myself. If you had a 12-second car in those days, that was fast! I was running in the 12s, but so was that little 302. This is where I really had a reality check as to just how bad these new Z/28s were!

Original time cards from the early 1970s at Capital Raceway.
Note the performance increase from the "Little Howard" engine rebuild,
open headers and seven inch rear M&H tires.
It was during the early 1970s that Ray and I ran in the Capital Raceway bracket program and became good friends. During this time I knew that 1967 Z/28s were rare, but I didn't know just how rare they were. All of the stats that we use today were not available back then. All I know is you never saw any '67 Z/28s, but always saw quite a few '68 and '69 Z/28s. I should also mention that there was another 1967 Z/28 that raced at Capital Raceway during that time. This Z was Marina blue and owned by Charlie Braxton; a Washington DC resident who purchased his '67 Z/28 new at Lustine Chevrolet in Hyattsville, Maryland. While I was introduced to the Z/28 Camaro in 1968, these were the first two 1967 Z/28s that I had ever seen up close and in person. Of course, I remember reading about the big NHRA Stock Eliminator win for Ben Wenzel at the 1967 US Nationals, but Indy was light years away for a 19-year-old kid from Randallstown, Maryland.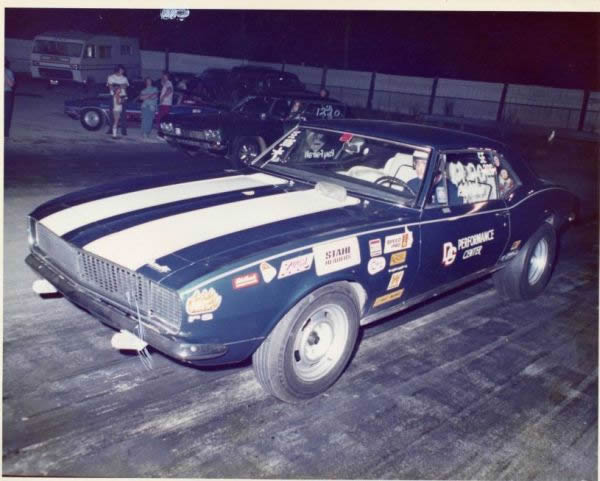 One of the last known photos of Ray's Z/28 in original Tahoe turquoise paint.
(75-80 Dragway circa 1973 Street Eliminator class)
Ray Fairall and I continued to race at Capital Raceway through the 1970s. I continued in the local bracket racing programs while Ray ran some of the NHRA divisional races running in D/Stock. In 1975, Ray exited the weekend bracket racing programs and converted his 1967 Z/28 to fit a newly created NHRA class called C/Super Modified. It was during this transition that Ray's car was given a complete face lift and repainted Tuxedo black with silver stripes. Bob Bailey from Bob Bailey Racing removed the original rear frame rails and replaced them with SRD frame rails to allow for bigger tires in this NHRA class. Unfortunately, this was about the time that this very rare factory-built Z/28 would start its decline from showroom new originality.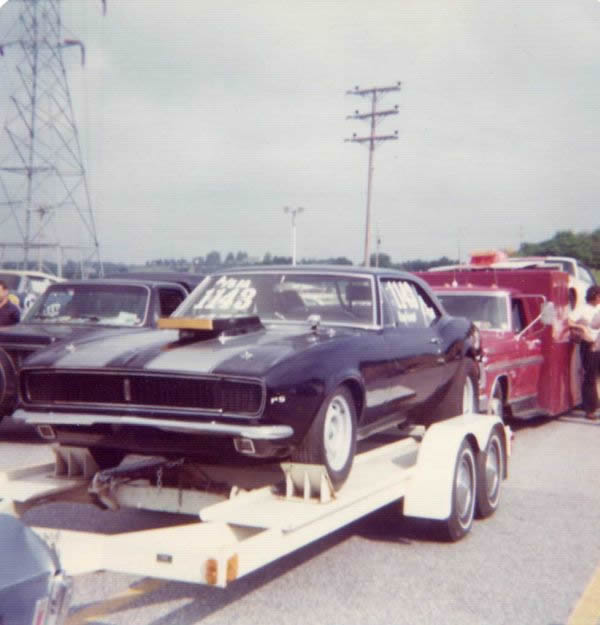 Circa 1975 after new paint and setup for newly created NHRA "Super Modified" class.