OUR NEW RESTORATION PROJECT, A VERY SPECIAL 1967 Z/28
In late 1986, another local by the name of John McLaughlin purchased Ray's 1967 Z/28 from Billy Smith. John was one of a few who really knew what this car was and did appreciate some of the local history surrounding it. John stated he was not a concours restoration guy, but he did begin to put this car back together in street trim. The car was repainted black. All of the windows were replaced with factory glass and window regulators. The originals were removed in favor of Plexiglas during the Super Gas days to save weight.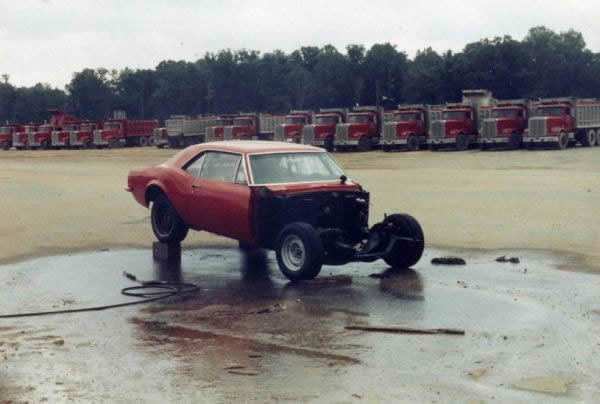 Circa 1986 after John McLaughlin purchase.
Billy Smith painted it red before sale.
McLaugllin drove the car on the street and occasionally raced this Camaro at the local drag strips. Large 454+ cubic-inch engines were the choice for the next 20 years or so. I would run into John at different car shows and race events during this time. We would talk about Ray Fairall and how he purchased the car new, and how it was a rare car, etc. I did not think about buying this car until we were at a local car show in December 2005. I was showing one of my Camaros at this show and John McLaughlin had Ray's car on display at the same show! We chatted about the car again.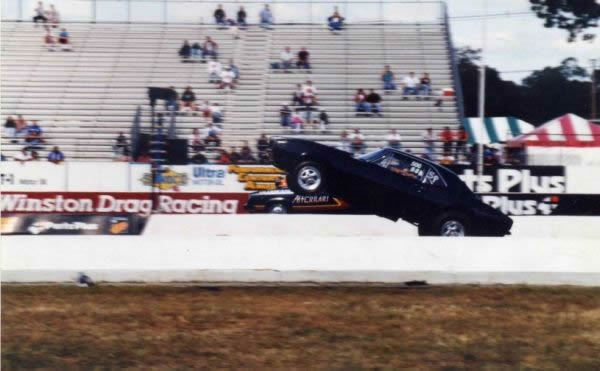 Nice five foot wheel stand at Englishtown Raceway Park.
John McLaughlin driving (circa 1994).

Cruisin' Ocean City, MD (circa 2002).
McLaughlin drove car on the street for many years.
One of my good friends, Kerry Stanley was at the show, too. Kerry has a body shop in Newark, Delaware, and is a Camaro nut like myself. Kerry's expertise with first generation sheet metal is second to none and that's why I asked him to take a look at Ray's old car since it was there. I asked Kerry if this car could be brought back to factory new condition without spending the national debt or reboding the car. I was actually considering trying to buy this car from John McLaughlin. Kerry was very impressed with this old Z/28. There was no rust on the car anywhere as it had spent most of its life in garages. The floors and dashboard were still intact along with the original sub frame. My thoughts on this was that the timing was right. The Dave Strickler "Old Reliable" Z/28 that I had been racing in Stock Eliminator was becoming too valuable. Famous NHRA race cars were sky rocketing in value. I knew it was time to retire the "Old Reliable" to a museum so all Camaro enthusiasts could see the car and appreciate its race history.
On March 12, 2006, a deal was made. I purchased Ray Fairalls's original 1967 Z/28. Little did I know that this was only half the battle to complete the purchase. Remember that the original trim tag and vin plate were removed from the car over 20 years ago. How did I know this was in fact Ray's old car? I inspected the hidden vin under the cowl to make sure it was the real deal. What a thrill it was to see those magical numbers, 7N236100, stamped in the cowl. If these numbers would have been cut out or removed during the car's life, this 1967 Z/28 would have been almost worthless.

Unloading Ray's '67 Z/28 in our driveway on March 12, 2006.
Now comes the hard part… taking back to its original condition.
After I brought the car home, I contacted Louie Weeks. Louie still had the trim tag and vin plate in his possession. Louie also had the holy grail of paperwork for the car, too! Sometime during the late 1980s, Weeks tracked down Ray Fairall and found out that Ray still had all of the original paperwork to the car! Amazing, Ray kept all this paperwork in his tool box in the garage. And I mean everything; dealer invoice, dealer inspection form, protect-o-plate, service records from A.D. Anderson Chevrolet starting August 7, 1967, original owner's manual, original license plate registration cards, and local service records from Beltway Sunoco in Baltimore, Maryland. I new that after seeing all of this material, my dealings with Mr. Weeks would probably be costly.

Original tag registration cards dating back to 1968.
We haggled on a price to purchase the trim tag, vin plate and paperwork over the next nine months or so. On December 30, 2006, a deal was struck and the paperwork was mine along with the trim tag and vin plate! Finally, after 20 years, the car, paperwork, trim tag and vin plate were reunited to one owner, Jerry MacNeish.
Since I began the restoration in March of 2006, there has been a lot of interest in Ray's car with the locals. Just watching this 1967 Z/28 come back to life will be a dream come true for me and many others in the Baltimore area. After all, this was the first 1967 Z/28 that I got to see in person when I was just 19 years old. Ray and I have renewed our old friendship as he's giving me guidance in this project. I am hoping that both Ray and Willie, his old racing buddy, will be at the track when I debut the car.
When I started the official 1967 Z/28 National Registry in 1988, Ray's car was the first car entered in the registry. Car #1. Charlie Braxton's 1967 Z/28 is car #2.
What are the plans for this 1967 Z/28? Since the drive train was long gone, my plans are to bring the car back as a legal NHRA Stock Eliminator Z/28, just as Ray raced the car when it was brand new. The complete body will be restored to new condition in the original Tahoe turquoise paint and white Z/28 stripes. NOS GM fenders and quarter panels have been installed along with an original parchment deluxe interior. Remember, NHRA's Stock Eliminator class means exactly that, stock! No fiberglass body parts or seats. This was the class for factory-built hot rods, and this Z/28 will look exactly as it did when it left A.D. Anderson Chevrolet on July 21, 1967 except for the lightweight wheels and nine-inch rear tires. The drive train will be an original blue printed high-winding 302 with four-speed transmission and 12-bolt rear axle.
I have to admit, this is probably one of the most exciting Z/28 restoration projects that I've ever taken on. There is special meaning to owning this car. Ray's Z/28 had local history and was one of a hand full that was delivered new to the Baltimore area. Ray also did well with the car in his racing endeavors both locally and nationally. It was people like Ray Fairall that helped to make these cars that we love so much, so special to us.
In Spring of 2006, the long involved restoration began with removing all of the non usable sheet metal and rear tub wheel wells.