On May 15, 2013, the last car on my bucket list was at Freedom Automotive for a front end alignment. This was the last thing needed to complete the restoration on this very rare 1965 SS396 4 speed Impala convertible. My goal was to have this car completed for the Cruisin' Ocean City, Maryland weekend. We made it!
I personally want to thank everyone who was a part of this journey. I had a lot of help from a lot of great people and friends.
I have been involved in the automotive industry for over 43 years now. During that time I have dealt with many body shops and painters restoring the dozens of Camaros that Camaro Hi-Performance has restored over the years.
I can honestly say that my relationship with Jerry's Hot Rods of Hampstead, Maryland has been by far the most pleasant experience that I've ever had with restoring a car.
Jerry Breznicky is what I call "The Turnaround King." I have never met anyone in this business who has the work ethic and turnaround time as Jerry's Hot Rods. We dropped the car off at Jerry's Hot Rods on Oct 20th 2012 with the engine, transmission, & interior removed. From there, Jerry's Hot Rod's magic took this restoration down to bare metal, literally. They completely gutted the car and unbolted the body from the frame. The body was mounted to a rotisserie and media blasted while the frame was disassembled and sand blasted. Every part was restored down to the nuts and bolts before reassembly. My impala made its debut seven months later on May 15, 2013.
Their attention to detail and paint work is second to none. For anyone needing paint and or body work for any vehicle, Jerry's Hot Rods is #1 in my professional opinion. They are also very reasonable cost wise too for those who are on a budget. For Camaro lovers, Jerry has painted several Camaros which have scored a "Top Flight" at the Camaro Nationals in the "Legends Certification."
Go to www.jerryshotrods.com for more information. 410-218-8806.
THE EARLY YEARS
Many have asked me why I have an interest in these older "B" body cars as they are termed. The answer goes back to a time when these cars were brand new. I was 14 years old at the time. Thanks to long time best friend, Ronnie Stumpfl, who got me into cars at a very young age, we both fell in love with the 1965 Impala when it was introduced in the fall of 1964. I knew of the older 409 engines that were available in previous years thanks to the Beach Boys but Ronnie, educated me that this new "Mark Four" engine was the latest and greatest in 1965.
When we were kids, Ronnie and I always looked for the engine emblems on the front fenders of all Chevrolet products. If a Chevrolet had 396 emblems on the fender, this meant the car was fast to us kids.
I should also mention the old Bonanza TV commercials. Sponsored by Chevrolet, Bonanza always did a special introduction commercial in September of each year that the show aired on TV. That was an exciting time to watch as they introduced the new line of Chevrolet automobiles.
June 1966: Our family had just moved from Massapequa, New York to Randallstown, Maryland. It was a hard adjustment for me as a teenager but I made friends fast……….and right up the road from where I lived was another teenager about two years older than me. His name was Rich Bloom.
Rich had his driver's license and a vehicle: A Rambler that had engine issues. As I recall, he had a blown head gasket or something like that on the Rambler. I would go down to his house and watch him work on the engine. Rich and I shared similar interests as he was into music like me and played in a local band. Rich told me one day he will trade in the Rambler for a nice hot rod Chevrolet.
Well, later that year, Rich traded in the Rambler for a slightly used 1965 Chevrolet Impala Super Sport 396 convertible. This Impala was gorgeous! Rich's Impala was red with a white convertible top and black bucket seat interior. The real bonus was the factory installed Muncie 4 speed transmission. Most of these big Super Sport Impalas were bought new by middle aged adults who opted for the automatic Powergilde transmission. An original SS396 Impala with Muncie 4 speed transmission is very rare.
After the first ride in Rich's newly acquired SS396 Impala, I was hooked on the performance end of the spectrum. When he hit the gas and went through the gears, the horsepower and torque just planted me back in the seat as if I was in a rocket ship of some kind. Those memories of almost a half a century ago are still fresh in my mind. It was the best of times for me as a young teenager.
Add to this the fact that Ronnie Stumpfl's parents also bought a slightly used 1965 Impala. No big engine for the Stumpfl family: A 283-195 hp V-8 is all they needed, but it was still the body lines and cool rear seat speaker with AM radio blasting out the top 40 music of the day that made these cars so cool for me as a kid growing up. I wanted one in the worst way. The trouble was I didn't even have a driver's license yet.
Fast forward to 2007: Most people know that I've been a Camaro guy for most of my life. When the Camaro was introduced in September of 1966, it was love at first sight……….but I never forgot about the 1965 Impala SS396 which was really my first love. It was in 2007 that I decided to try and find one just like Rich Bloom's '65 Impala SS396. Finding one of these cars would take me back to simpler times and my teenage years every time I drove it.
REALITY CHECK
What I got was a reality check when I started looking for A 1965 Impala SS396 convertible. After being in the restoration business for over 25 years, I knew it was best to find an Impala that was already restored. As most of you know, restoration projects can eat up most of your savings pretty quick. That is why I was patient and told myself that the right 1965 Impala SS would come along at the right time. It never did. And to add insult to injury, it seemed to be near impossible to find one with a number's matching drive train either! Approximately 50,000 "B" body 396 cars were built from February 15, 1965 until the end of the production run in July of 1965. That's a lot of 396 "B" body cars. What I didn't know is very few convertibles were built with the 396 engine and even fewer were 4 speed cars.
Eventually, high school buddy, Norm Meads found one on Ebay. This was February of 2012. I looked at the photos and was shocked to see that this car had been sitting for many years in a Quonset hut to boot. The car was ugly and also listed that it did not have its original engine. I was turned off by this car. Norm insisted that we take a look. The car was located in Oakland, Maryland which is way up in the most western part of the state. Oakland is known for very cold winters. This town is also a ski resort.
We made the road trip on February 5, 2012. Just to be safe, I took a trailer with me and some cash in case a deal could be made. Once we arrived, the Quonset hut was stuffed with vehicles. The 1965 Impala was right in the middle of all the cars. To make matters worse, it was very cold in there and to try and do a proper examination of the car in these conditions was near impossible. What I did uncover though was some good news. This car did not have a replacement engine as it was listed. The seller was in error so that was a plus for me.
Unfortunately, I was overwhelmed by taking on another project car at this point in my life. I walked away. Norm kept trying to talk me into bringing the car home. I just could not do it. We left Oakland with cash in pocket dragging the open trailer behind us.
Several months went by. Now I was in full 1965 Impala mode. I began talking with all the experts on these cars to get all of the details that I could about doing a possible restoration. Don Bock out of New Jersey is one of the leading big car experts in the country. Don helped immensely and gave me the insight and wisdom needed if I were to take on one more project. So, the idea of doing just one more restoration might not be so bad. I also kept thinking about how hard these cars were to find. Six years and nothing had really turned up. All of the big block cars for sale had replacement engines and or drive trains. None had documentation either.
PULLING THE TRIGGER!

In early July of 2012, the seller contacted me again and asked if I had found my dream 1965 Impala yet. He told me that he was going to install a new top on his car and take it up to the Walmart parking lot to sell the car. I knew now that I had to make a decision on this car. Norm and I talked it over, drove back to Oakland and purchased the car. Let the fun begin! July 15, 2012, I am now the proud new owner of a 1965 Impala SS396 convertible.
Once we got the Impala home, we gave it a power wash bath to clean it up. Norm got the bright idea and asked, "why don't we throw a battery in the car and see if it starts." I thought he was nuts…….but I went into the garage and retrieved a battery and installed it in the Impala. The first thing I did was turn the engine over with a breaker bar on the harmonic balancer to make sure the engine was not locked up. I was amazed that the engine did in fact turn over. Norm turned the key and the engine started to crank over. I was stunned. So was everyone else. I grabbed my dwell meter and set the points. What we found was no fire from the engine coil. So, I grabbed another coil, stuck it in and after about three of four revolutions, the engine lit off.
In the process, out the exhaust pipe came just about everything imaginable………..mice carcasses, straw and 21 years worth of storage rot that covered my driveway. Once all of the debris cleared out of the exhaust pipes, the engine smoothed out and idled fine. Norm put the car in first gear and down the driveway he went. I could not believe my eyes. This car which had been sitting in storage for 21 years was now running up and down my street. We were all laughing, what a sight to see.
After Norm was done cruising my court, we were able to get the top down. When the ugly torn top was down, the car did not look so bad. Then I thought to myself, maybe I can drive this car for the summer and start the restoration in the fall. That's exactly what I did. I registered the car at the MVA and purchased tags that read "1965SS396." How cool was that?
After the first week or two of ownership, I would drive the car around the block. Then a few days later, I would venture a little bit farther with the car. As time went by, I realized that although this car had sat for 21 years, now that is was running, it appeared to be very dependable. Every time I hit the key, the engine started right up. The exhaust was noisy but that would be replaced when the car was restored.
During the summer of 2012, I ventured to various cruise nights with the Impala and even took it on a two hour round trip to Shrewsbury, Pennsylvania cruise night. With the top down, this car was exciting to drive. The Impala rode very well too. Even with the old wore out radial tires that were on it, the '65 SS Impala rode as well as my 2013 Impala that I drive everyday! Very impressive for a car that was 48 years old and sitting in storage for 21 years.
On October 9, 2012, the CHP gang began taking the Impala apart for a complete frame off restoration. Here is racing buddy, Sam Murray working on dismantling the interior. Below, Norm Meads, Bob McKelden and Freddy Behr remove the original 396 engine from the car.
Jerry's Hot Rods here we come !
March, 2013, she's Ermine white!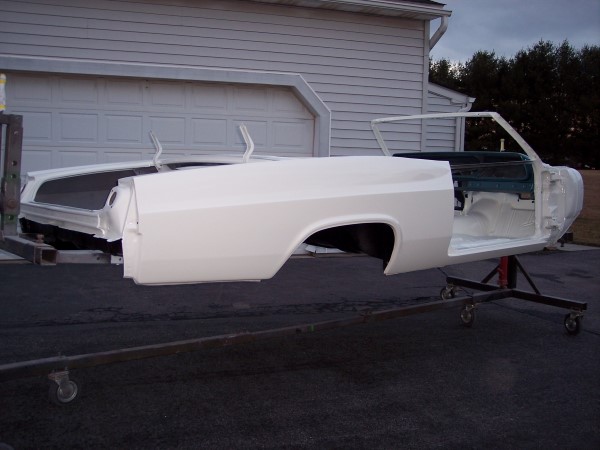 After the full frame was sand blasted, off to the powder coater it went.  The frame to this car was in amazingly great condition with very little rust.
Meantime, back at Camaro Hi-Performance (CHP), I prepare the original rear axle for rebuild.  I have been rebuilding and setting up rears now for almost 44 years and I still hate doing them!  I converted the Impala open carrier to positraction.  Just happened to have a spare three series carrier available.  The black housing is out of the Impala, the other is a friend's 12 bolt out of a Camaro.  All rear axles are power washed outside before assembly.
Meanwhile, back at Jerry's Hot Rods, he's painting dashboard parts and a 1965 Impala frame assembly.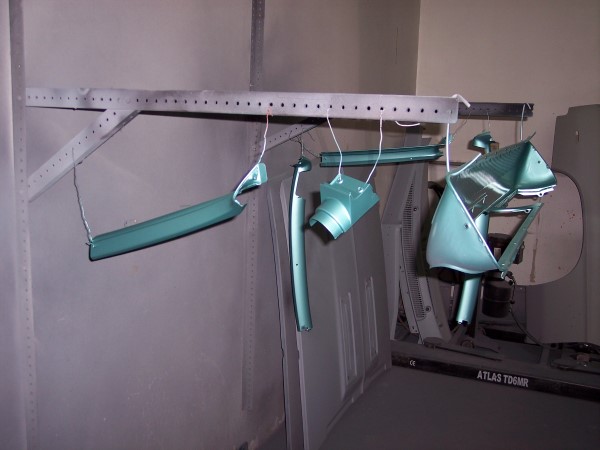 And saving the best for last, Jerry's Hot Rod's has the GM trunk paint right on the money.  Check it out!
Here is the virgin L35 396-325 hp engine.  I don't think the valve covers were ever taken off this engine.  One of the most unmolested big block motors that I've ever seen.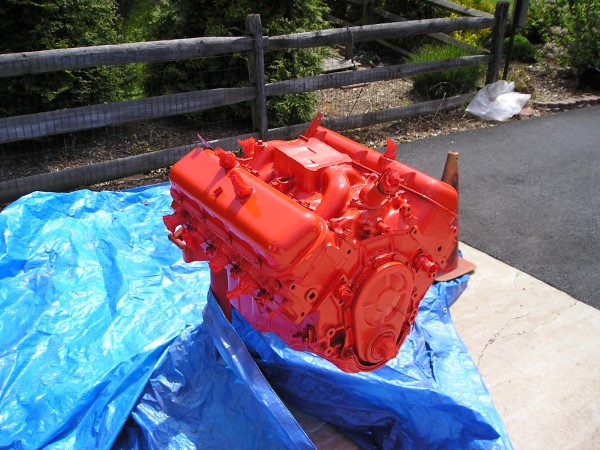 Meantime, back at CHP. it's time to rebuild the Muncie 4-speed transmission.  I have to say that in my 44 years of rebuilding Muncie transmissions, this was the nastiest, dirtiest Muncie I have ever rebuilt.  Check it out.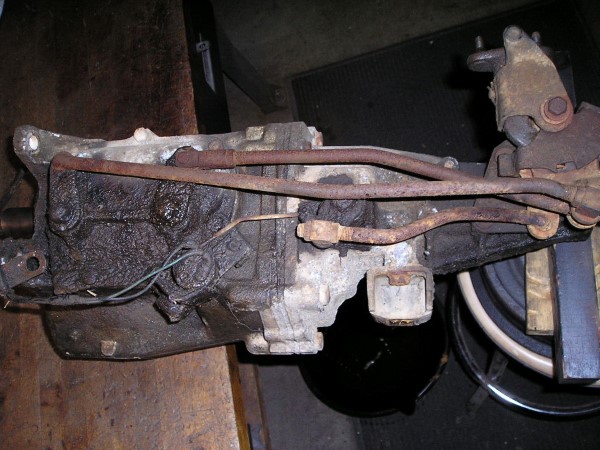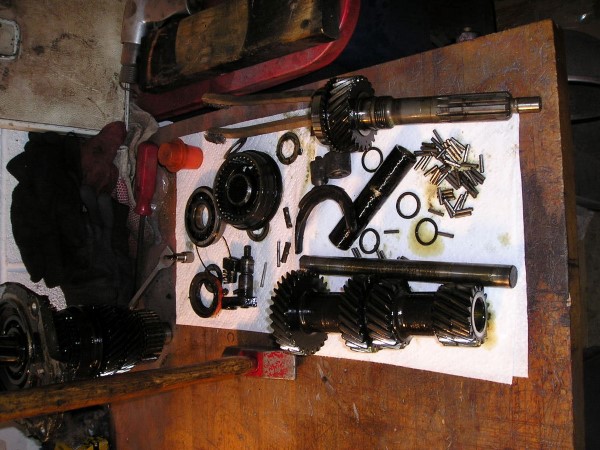 Next stop, Ocean City, Maryland.  With help from a lot of close friends and professionals in the car restoration business, we were able to meet the deadline.  Here is the 1965 Impala SS396 sitting on the boardwalk for the morning cruise on Thursday, May 16, 2013.  Without a doubt, the Ocean City cruise and car show is by far one of the biggest and best in the country.  Over 14,000 classic vehicles attend this event every year weather permitting.  Driving down the boardwalk with the ocean breeze blowing in your face is just about as good as it gets.  If you've never attended, I would put this show on your bucket list for sure!  Be there or be square!
During the introduction of my Impala story, I told you about a friend on my street, in Randallstown who owned an SS396 Impala convertible.  Rich Bloom had left such an impression on me as a young teenager taking me for rides in his 1965 Impala.  The neck snapping gear changes are forever embedded in my mind.
Once my Impala restoration was complete, it was only right that I try to locate Rich so I could share with him my labor of love restoring an almost identical Impala SS396 to his original car.  On September 19, 2013, I invited Rich down to my shop to show him a very special car.  Here's Rich standing along side my 1965 Impala SS396.  I think it's safe to say that this story has now gone full circle.  The perfect ending for my story.
I asked Rich if he has any photos of his original Impala.  I will post them on this story thread if he can find them.  Stay tuned for more!
THE END!  (for now)